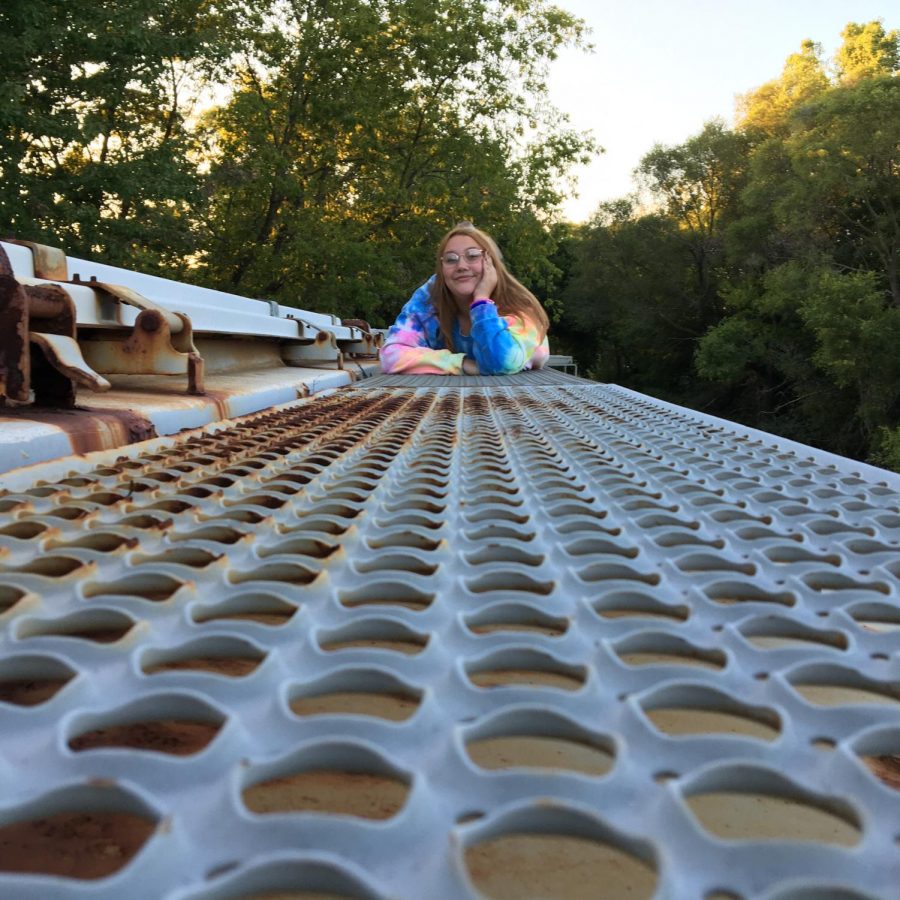 Autumn Mann is a sophomore at St. Louis High School. She enjoys reading and painting in her free time. When she's not with family or friends, she's usually tucked in a corner reading a good book. Her favorite subject is English. She also likes making bracelets, and she actually likes having homework because it keeps her mind off a lot of things in her life. Her favorite movie is
The Breakfast Club,
and her favorite show is
The Office
. Her favorite food is watermelon and honeydew. Her biggest fear has to be either losing all her loved ones or spiders. Who is Mann inspired by? She's inspired by Lizzo because she isn't afraid to be who she is, and she's so confident in herself.
Autumn Mann
Jan 06, 2021

St. Louis High School unveils brand-new Wrestling Room

(Media)

Nov 13, 2020

What's your 2020 aesthetic?

(Story)

Nov 10, 2020

SLHS reacts to Ariana Grande's new album

(Story/Media)

Nov 04, 2020

What's your 711 order?

(Story/Media)

Oct 30, 2020

Winter weather is slowly creeping in

(Story/Media)

Oct 30, 2020

SLHS sophomore Sarah Corson gains 300,000 views on her own book

(Story)

Oct 23, 2020

SLHS students practice for the PSAT

(Story)

Oct 15, 2020

Hand sanitizer dispensers around the SLHS hallways

(Media)

Oct 12, 2020

SLHS students are excited for fall

(Story/Media)

Oct 09, 2020

Flannels are taking over SLHS

(Story)

Oct 02, 2020

Students react to Apple's new iOS 14 update

(Story/Media)

Sep 28, 2020

St. Louis Wrestling gets its own room

(Story/Media)

Sep 22, 2020

Colton Markwell: Rubik's Cube master

(Media)

Sep 22, 2020

Sideline Cheer prepares for this year's football season

(Story)

Sep 17, 2020

The Office is being removed from Netflix

(Story)

Sep 10, 2020

Virtual vs. In-Person school

(Story/Media)

Mar 11, 2020

Concert Band has great performance

(Story)

Mar 04, 2020

Students compete in Teen Bible Quiz

(Story)

Feb 26, 2020

FFA holds spirit week with dress-up days

(Story)

Feb 12, 2020

Drama club announces this year's performance, auditions

(Story)

Jan 27, 2020

Students make new year's resolutions for 2020

(Story)

Dec 09, 2019

STL students rock the Blues in the Night

(Story)

Nov 18, 2019

SLHS students, staff enjoy day off!

(Story)

Nov 05, 2019

Freshman McKenzie Reid doesn't let obstacles slow her down

(Story)

Oct 29, 2019

What does it take to be a modern-day hero?

(Story)

Oct 16, 2019

Most popular movies of 2019

(Story)

Oct 02, 2019

SLHS band is off to a great start with Mr. Lawhorne

(Story)

Sep 20, 2019

St. Louis students participate in Youth Hunt

(Story)

Sep 12, 2019

Are you ready for Homecoming?

(Story)

Sep 06, 2019

SLHS hires new PE teacher

(Story)