Battle of the Sport Drinks: Gatorade or Powerade?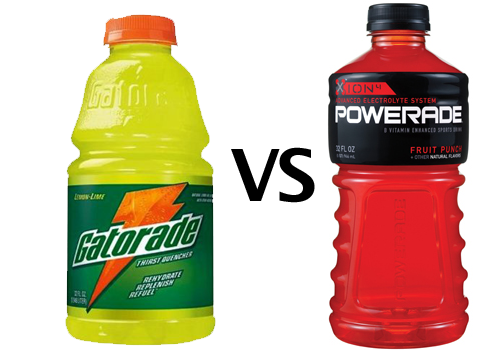 A big question at St. Louis High School is what is better: Gatorade or Powerade? By going around and asking students which do they prefer to drink, I got the result on which is the most liked. As most people could guess, Gatorade is the most liked at SLHS. According to CNBC, Gatorade also has a higher selling rate than Powerade. 
Carly Shattuck said, "Gatorade has a bigger variety, and they are restocking Gatorade more often in the store. It has brighter colors, and tastes good along with having good electrolytes." Shattuck goes into great detail and explanation on how Gatorade is better. Even though they both have an average of eight different flavors, it seems as if stores have more rows for Gatorade than Powerade. 
"I think Gatorade is better. Powerade tastes nasty and like water," said Brianna Griffin. Kelsie Gepford said, "Gatorade has more flavor compared to Powerade. Powerade tastes like water." Raman Frye said, "Gatorade because the flavor is better and Powerade is watered down."
One student, Kaytlen Hess, doesn't think either of the two beverages is good. Hess said, "They both kind of suck. Their flavors are just not good."
Gatorade has many different qualities and that is what makes it the best. It has a longer-lasting taste as well as it having a strong taste. Abby Dice said, "Gatorade is overall better. Powerade just doesn't taste good" Hanna Brandon added, "Gatorade has more flavors." 
Brynn Saxton said, "Gatorade tastes watered down, Powerade has a more powerful taste. The taste lasts longer." "Powerade has a stronger taste and lasts longer," said Tekoha Henry. These two students disagree with Gatorade being the best. 
It is clear to see that Gatorade is the most-liked beverage. Most students gave a similar, or the same answer for both. Overall, they were very clear on which they thought was better; and all had strong feelings on which one was the best.