Boston strong: the story of Jeff Bauman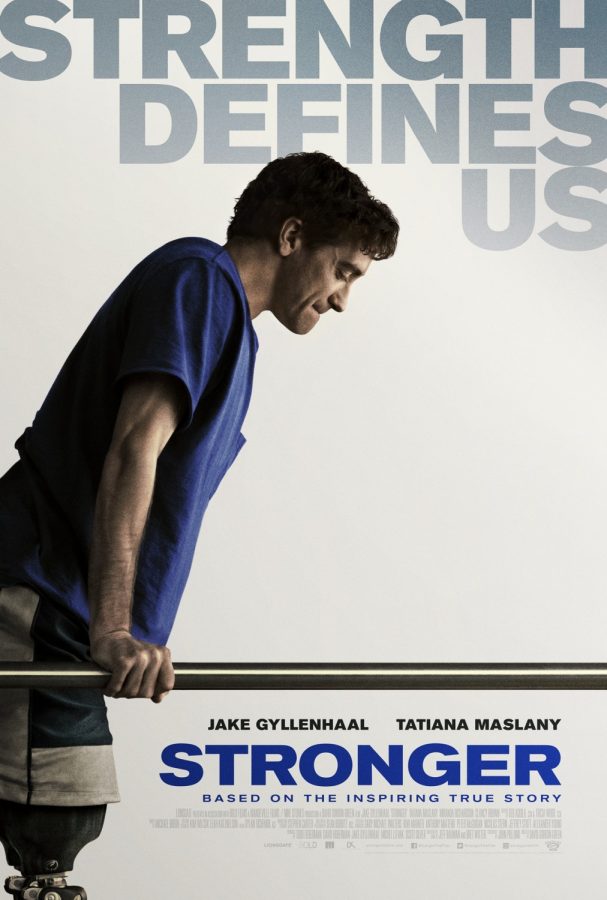 Stronger is about Jeff Bauman, played by Jake Gyllenhaal, a survivor of the 2013 Boston Marathon bombing. Jeff is just a normal guy until he loses his legs to the bombing. Now he has to cope with how to deal with life without legs and the troubles that come with it.
As viewers would suspect, this movie has a lot of emotion and is filled with a lot of pain, sadness, and a lot of great dialogue. When director David Gordon Green was producing this movie, he knew exactly what he wanted and what the viewers would want.
For instance, when the movie is having a dramatic moment, viewers can feel the tension as the movie makes them feel like they are part of it. The film shows what it feels like to be famous for something you don't want to be famous for.  When people see Jeff and want to take a picture with him, viewers can see that he doesn't want to do it. Jeremy Jahns, a youtube reviewer, said, "Jake Gyllenhaal comes across as so likable that when this happens we are like 'We are pulling for you man.'" Yet, he knows now that he needs to make people happy and give them hope.
Additionally, the family aspect the movie brings just makes the movie so much more realistic. When someone has something significant happen to them, everyone has to change and adapt to just that one person. Yet, the amount of time the family is shown kind of takes away from Jeff's story.
When Jeff is at his worst, he still has enough in him for some laughter. Viewers see this multiple times through the movie, and when it is a serious moment, Jeff will often crack a joke.
The visual effects in the movie are amazing. Stronger used a lot more C.G.I. (Computer Generated-Imagery)  then viewers would expect. Everytime Jeff's legs were shown, C.G.I. was used.  However, when the director's direct flashbacks, they should make it in first-person instead of third-person.
All in all, Stronger is a movie loved by most who watch it. It is filled with a lot of drama, pain, and sadness. For viewers who want to see a heavy drama with a lot of emotion which will tug on their heart-strings, this is definitely it. Jahns also said, "In the end, Stronger was very interesting. It is sad, tragic, crushing, thoughtful, heartfelt, and above all, it is very realistic."