Varsity Volleyball crushes St. Charles
The Sharks put the Bulldogs in hot water on Wednesday, beating them in four sets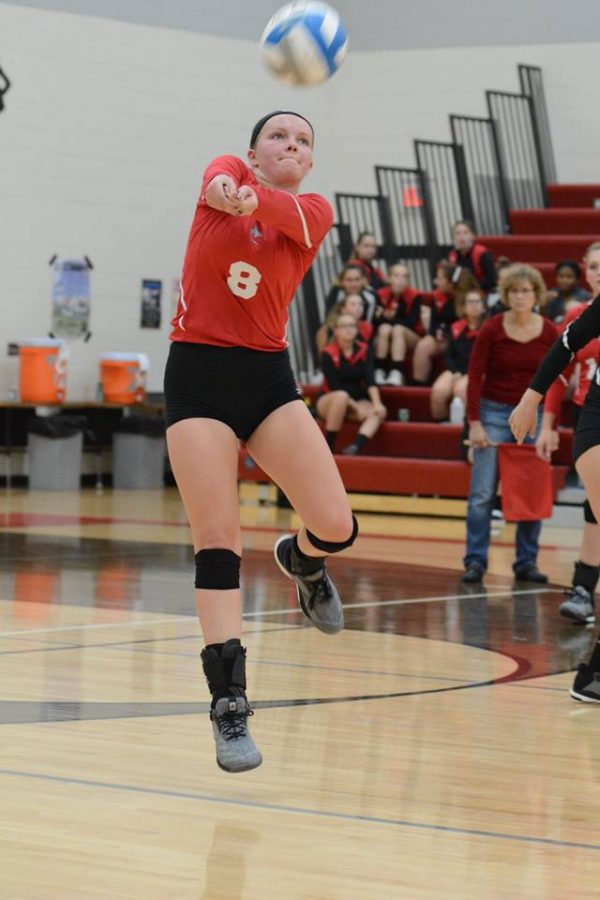 St. Louis Varsity Volleyball competed against St. Charles Wednesday, Oct. 3, at St. Charles High School and dominated the Bulldogs in four games. The Sharks started off the night with a great first set, which they won 25-10. The second set was the same story, with St. Louis pounding St. Charles 25-15. The Sharks lost their third set with a very tight final score of 25-27, but they came back to win the fourth 25-19.
Korah Honig said, "We fought really hard last night. The intensity was high playing against St.Charles, who is a team who rides on their emotion and plays with a lot of energy. We matched their energy and ended up overcoming them in the fourth set. It was a good night."
Allyssa Roberson had an outstanding night with 6 aces, 8 kills, 2 assists, and 13 digs, and Tara Goodell had a great night hitting with 12 kills and 1 block. Other leaders for the Sharks were Megan Greenup (28 assists, 4 kills, 5 digs, 2 blocks, and 2 aces), Madeline Greenup (2 aces and 17 digs), and Freshman Korah Honig (4 aces, 3 blocks, 2 digs, and 1 kill). The team is now sitting at a 14-15-3 record, but are 4-0 in league match-ups.
Senior Tara Goodell stated, "I think we played really well last night we were able to push through into our fourth set to win." The team is now looking forward to their upcoming games against Nouvel Catholic Central Oct. 10.