JV Volleyball plays hard against Bulldogs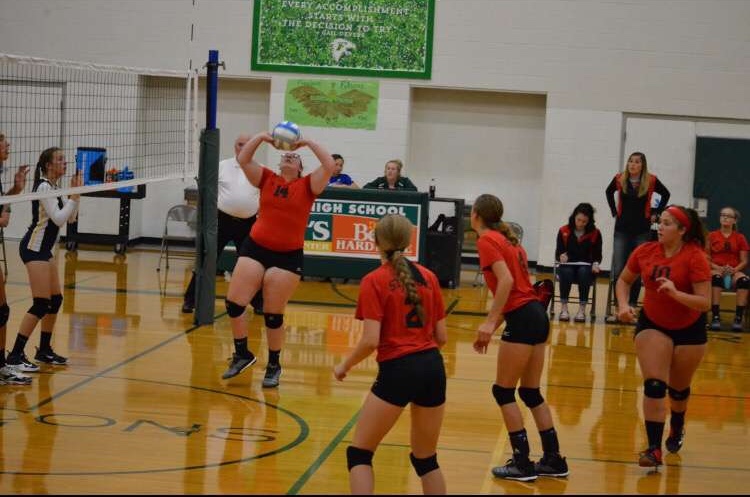 The JV Shark Volleyball team competed against St. Charles Wednesday, Oct.3 at St. Charles High School. The team lost in three sets. They lost 19-25 the first set, but then won 25-13 in a dominant showing by the Sharks. However, the team fell to the Bulldogs the last set 5-15.
Ellie Gager shared, "I think we all played well last night but not to our fullest potential. It was a challenging game against St. Charles, but we continued to play on. In the end of the third game, I feel like we all kind of gave up. Hopefully we can change that for our next game on Wednesday."
The team became frustrated, and, according to some of the players, that was the reason the team fell in the third set. Haylee Davis said, "We did not win. The first game, we weren't really pumped up and ready to play, but the second game we were hype and excited. We played hard and got passes and hits that some thought we couldn't get. We won our second game, and the third game, I feel like we started to slowly give up in the end and got frustrated with ourselves. We started to lose control more and more because we weren't getting passes down. Overall, it was a good game. St. Charles didn't play any better than us. I think we just needed to be prepared and to keep fighting 100% of the time instead of 50% in the end."
Though the team pushed hard and fought back to the Bulldogs, their frustration overcame them. Macie Salladay shared, "The first game, we did not show up to play. We lost pretty badly. We were down by a lot, and then we came back and worked 100% in the second game and lost the third. All in all, we had good teamwork."
Overall, the team got their focus and determination in the second set to dominate St. Charles, but it was just too late since they lost the first. The team lost their drive in the third and ended up losing. It was a hard-fought match-up that the team can learn from. The team's next game will be next Wednesday, Oct. 10 at Nouvel Catholic Central.