SLHS competes in the Michigan FFA Broiler Contest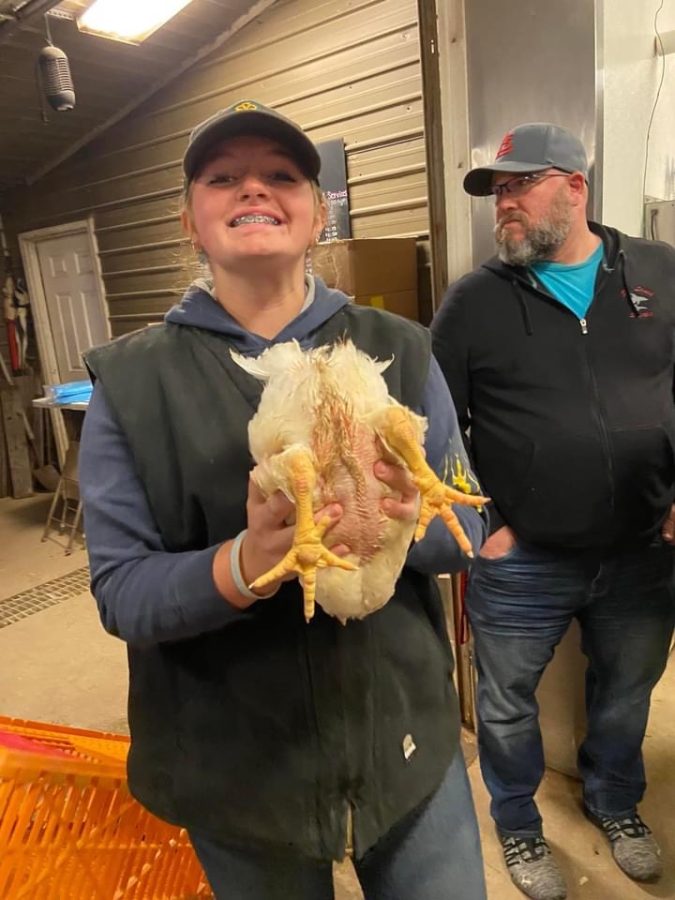 St. Louis' own agriculture teacher, Matthew Bernia, and his classes have raised chickens in the St. Louis High School greenhouse for the past four years. This project culminates in the Michigan FFA Broiler Contest. They have been raising these chickens as a hands-on experience and to teach students about nutrition, digestion, and the livestock industry. 
"The primary goal of the Michigan FFA Broiler Project Program is to enhance students' knowledge in animal husbandry, science, mathematics, English, and other academic subjects. Moreover, in this academic endeavor, students participate in real-world experiences by raising the biggest birds possible in the shortest period of time using safe and ethical industry recommendations. Agriscience and natural resources education programs throughout Michigan have found that this innovative and creative educational thrust adds enormous value to the FFA chapter program of activities. The Michigan FFA Broiler Project Program has been a hallmark and signature thrust in Michigan because it has assisted students in developing skill sets in problem-solving, working in teams, managing time, and other personal development areas," said Bernia.
He then explained how the students have to pick their top five birds based on uniformity, conformity, body condition, and weight. Bernia commented, "These 5 birds are processed and students must judge the carcasses, and select the top three to be judged by a poultry expert. During this time, the Judge will ask students questions about feed, bedding, management, etc." In addition to that, students also must complete a scientific data report to be turned in at the contest. This report has them calculate the rate of gain, feed conversion ratios, cost of production, etc. Students also must graph their data with a bar graph and a line graph. They also have to write about the livestock management practices used, plans for the rest of the pen of chickens, marketing, and much more. "This year we performed admirably and held our own in the competition but did not receive an award," said Bernia.
Principal Ben Brock was really excited about this project since it was his first experience. He commented, "It was very nice to see how involved all of the students got in the project. Mr. Bernia really motivated his students, and it was a lot of fun to see everyone so into the project. Go Sharks!"
Mr. Bernia is looking forward to next year's chickens, the broiler contest, and seeing all the students involved in the project.