SLHS Cross team competed at tough course the Greater Lansing Invitational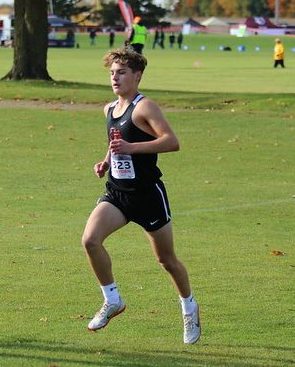 The boys' and girls' Varsity cross country teams competed  Saturday Oct. 14, at the Greater Lansing Invitational. This meet is known for being cold and it always has very tough competition. The Girls placed 15th and the Boys finished with an outstanding fourth place in a loaded field. 
The boys team had two top 30 finishers: Ben March 9th with a time of 16:41.03, Landon Pestrue 15th in 16:52.39, Dylan Marr 31st in 17:19.67, Alex Rodriguez 71st, 17:58.03, Colin Kuhn 75th, 18:03.85, Hayden Shattuck 96th, 18:22.58, and Dominic Gillman 158th 19:36.66. 
On the Girls' team Jaiden Dickman placed 18th in a time of 19:43.00, Abby Dice 70th in 21:27.32, Laney Pestrue 101st in 22:18.60, Natalie Lemert 112th in 22:36.04, Aeralynn Leonard 117th in 22:47.53, Payton Kuhn 135th in 23:09.35, and Jenna Abell 166th in 25:09.59. 
The teams competed well with many season and personal bests on the day. The Greater Lansing Invitational is hosted by Playmakers and only the top-seven runners on each team can compete. The teams are not broken into divisions so all divisions compete against each other. 
Senior Payton Kuhn said, "It was a chilly morning, but the course was okay and the best condition it has been in a while. Both the boys' and girls' team performed really well, and it shows a promising future for both teams." 
Junior Ben March said, "It was a nice way for our boys to see where we stacked up against some very challenging division-one and two schools. Also beating Pewamo Westphalia and Alma felt really good. The boys ran tough on a cold, wet, and hilly course. The team has high aspirations for the rest of the season." 
Coach Jay Puffpaff said, "We competed extremely well at greater Lansing. I was really proud of our athletes as they executed in all phases of the race. Both teams had great finishes in a very competitive environment." 
The Sharks was back in action Oct.18 at the All TVC Conference meet hosted by Birch Run. This was one of their final meets heading into Regionals the following Friday.