Sharks' Cross team competes in the first meet of the season!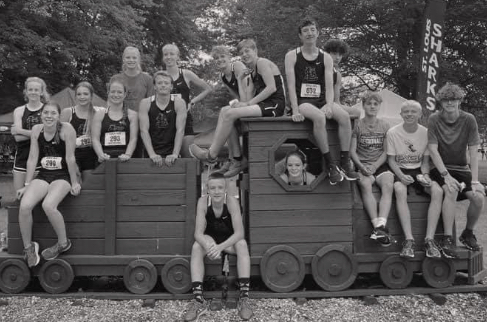 The guys' and girls' cross country teams both competed well in their first meet of the season at the Birch Run Invitational Aug. 25. 
Both teams performed very well for their first meet even with the hot and humid weather. The boys' team came away with a first-place win in the small school division. The girls competed against very strong teams and ultimately ended with a third-place finish in the small school division. Junior Ben March said, "The team went out hot and the freshmen started the year with a roaring success.
"Being the first meet, many members of the team were nervous prior to the race. Junior Natalie Lemert stated," Overall, I was very nervous and unprepared. It showed in my race, I tried to block it out of my memory." The teams both performed at a high level despite the nerves. 
Coach Jay Puffpaff said,"It was a solid start to the season. Any time you can bring home two trophies, it's a good day. We saw a lot of positives out on the course and a few areas that we can continue to improve upon throughout the season. We had outstanding attitudes and efforts all around, and that is exactly what we are looking for at an early season race."
On the guys' side, Ben March led the team finishing third with a time of 16:44.31. Both Alex Rodrigez and Hayden Shattuck competed in their first high school cross country meet, finishing in 40th with a time of 19:14.37 and 45th with a time of 19:25.23 respectively. The girls' team was led by Jaiden Dickman placing eighth with a time of 21:00.54. Areylnn Leonard, a freshmen, ran a personal best for a 5k in a time of 28:18.58. Overall, on the guys' side following, March were, Landon Pestrue came in 10th followed by Dylan Marr in 25th, Colin Kuhn in 35th, Alex Rodriguez in 40th, Hayden Shattuck in 45th, Dominic Gillman in 165th, Dylan Luft in 168th, and  Cole Lombard in 179th. 
For the girls, placing 38th on the day was Laney Pestrue, Abby Dice 40th, followed by Natalie Lemert in 50th, Payton Kuhn finished 77th, and Arelynn Leonard was 98th. Both teams were back at it Tuesday, Aug. 30, at the Corunna Earlybird invite.