St. Louis Varsity Boy's Basketball open their season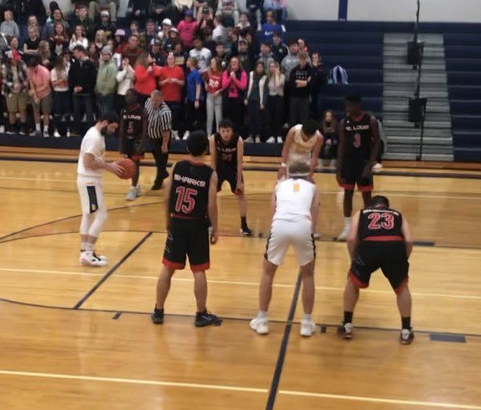 The Saint Louis boys varsity basketball team opened their season against the Breckenridge Huskies Tuesday, Dec. 7 on the road. The Sharks fell to the Huskies 59-38. 
Starters for the Sharks were Thomas Zacharko, Ignatious Jackson, Cole Lombard
Demetrius Alspaugh and Colby Taylor.
The Sharks began the game in stride with an 11-0 lead by the end of the first quarter. As the second quarter came around, the Huskies battled back to tie up the score, the first half ending with both teams being close in score.
Everything came down to the second half as each team had the opportunity to win. The Huskies made big plays in the third quarter of the game which ultimately led them to come out on top as they held their momentum throughout the 4th quarter.
"We were looking good at first," said Senior Demtriues Alspualph. "At the end of the first quarter, we were up 11 points and were not that far behind by the end of the half. In the beginning, Breckenridge played man-to-man defense which is why I think we had such a huge lead. Once the other team switched to zone defense it seemed like we fell apart and they just ended up outscoring us."
Leading the varsity team was Junior Thomas Zacharko with 13 points. Zacharko was a big help to the team. Cole Lombard had a great night with 9 pts and Ignatious Jackson added 8 points. 
The Sharks next compete against the Valley Lutheran Chargers on the road, Friday, Dec. 10.