Sharks boys' and girls' cross country teams compete at Bluejay Classic Invitational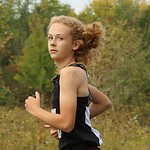 The Sharks boys' and girls' cross country teams competed well at the Bluejay Classic Invitational Saturday Oct. 2. 
Leading up to the meet, the Sharks were switched from their race the day before the meet. The Sharks ended up in the elite race where they competed against Traverse City Central, Traverse City West, and Freeland which are some of the best division one and two teams. Head Coach Jay Puffpaff stated, "It was great competition to see where we stacked up against the best in the state. We handled the competition very well and set ourselves up for success in that race and for the rest of the season."
The girls competed well and ended up placing a solid seven out of 20. The guys' team was able to place six out of 21. This race was very exciting and many runners received a personal record or seasonal record that day. Aaron Bowerman stated, "This is always a great race and we always run well here. I was so happy to get my first big drop of my last season here". People who achieved a PR for the day were Landon Pestrue, Benjamin March, Colin Kuhn, Aaron Bowerman, Connor Daniels, Alex Baxter, Dylan Luft, and Abby Dice. Those who ran a season record were Craig Bebow, Will Erickson, Walker Aldrich, Dominic Gilman, Demetrius Alspaugh, Laney Pestrue, Payton Kuhn, Natalie Lemert, Mikenna Borie, Monica Borie, and Jenna Abell.
The top five for guys included Aaron Bowerman with a time of 16:23, Ben March, ran a 16.25, Nate March with a 16:54, Dylan Marr 17:31, and Landon Pestrue who ran a 17:35. The girls top five included Mikenna Borie who ran a 19:19, Libby Munderloh who ran a 19:40 for the day, Jaiden Dickman who ran a time of 20:16, Sela Delgado ran a 20:50, and fifth for the girls was Monika Borie with a 21:15. The teams were excited and ready for the chaos of homecoming week and a long training block before the final conference meet.