St. Louis cross country crushes competition at the John Bruder Classic Invitational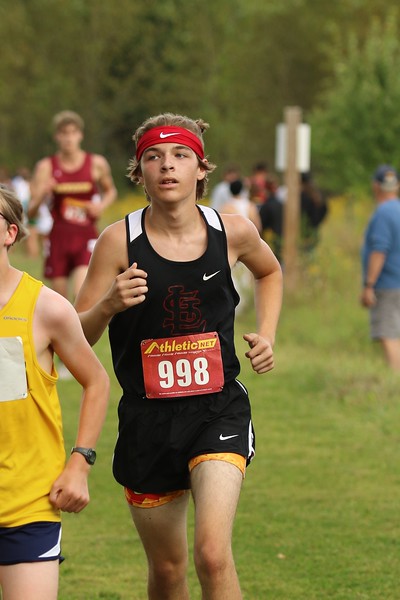 The St.louis guys' and girls' cross country crushed their races at the John Bruder Classic Invitational which took place Sept. 8, 2021, in Shepherd.
Senior varsity member, Sela Delgado stated, "The race was very mentally challenging." This was the first meet the Sharks participated in since the Chip Hills meet. Runner Aaron Bowerman added, "It was nice to see how we sized up against large D2 teams such as Freeland, Davison, and Cadillac." Many of the runners agreed that the temperature was excellent as was the course. 
The boys' cross team took second overall, and the girls' team placed fifth. Head Coach Jay Puffpaff was really proud of the team's accomplishment. He stated, "Our first real race of the season, but we still have a lot of work to do." The top five finishers for the guys' cross team in order of first to 5th includes Aaron Bowerman with a time of 17:04 placing 11th, Benjamin March had a time 17:12 placing 12th, Dylan Marr had a personal record for the 5k with a time of 17:26 and placed 14th, Nate March ran a 17:56 and placed 16th, Thomas Zacharko ran an 18:07 and placed 21th. 
On the girls side, Libby Munderlough ran a 19:33 and placed 12th, Mikkena Borie ran 19:50 and placed 13th, Jaiden Dickman ran a 20:11 and placed 14th, Sela Delgado ran a 22:42 and placed 48th, Monica Borie ran a 23:00 and placed 51st. Junior varsity medalist from the meet, Natale Lemert, said, "I felt like we really pushed each other. Still, we have a long season ahead…" The teams ended the day on a solem note as they look toward  the Trent Carter Memorial Invite to take place Sept. 11.