Girls' and boys' track win again at Standish TVC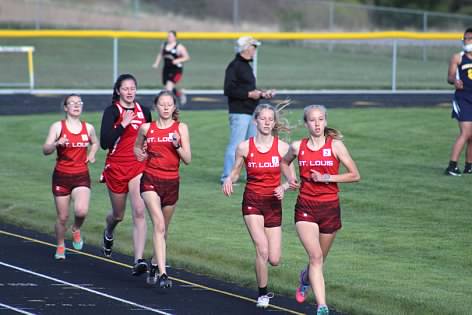 The girls' and boys' track teams won yet again at the Standish-Sterling Community Schools Wednesday, May 12, 2021. They defeated three schools; Standish-Sterling, Carrollton, and Saginaw Michigan Lutheran Seminary(MLS). The final score for the girls was 82 points and the boys beat Standish-Sterling 94 to 42, Carrollton 97 to 37, and MLS 103 to 34. . 
The girls had several first placers; Chloe O'Boyle in the 100-meter dash with a time of 13:43 seconds; Libby Munderloh in the 200m dash and 200m hurdles with her personal record (PR) times of 27.16 and 49.67 seconds; Jaiden Dickman in the 800m dash, 1600m dash and 3200m dash with times of 2:45.60, 5:56.70, and 14:00.80  minutes; and Natalee Hoyt in pole vault with 8-00.00 feet exactly. The girls also placed first in the 4×200 relay with a team of Munderloh, Adry Munoz, Mikenna Borie, and O'Boyle; the 4×400 relay with a team of Mikaila Borie, Mikenna Borie, Monika Borie, and O'Boyle; and the 4×800 relay with a  team of Jenna Abell, Payton Kuhn, Dickman, and Munderloh.
On top of the many first placers, several other girls PR'd as well. This includes Hoyt with her PR of 13.89 seconds for the 100m dash, Kuhn with her PR of 6:04.37 minutes in the 1600m dash, Monika Bories and Munderlohs times of 51.32 and 49.67 seconds for the 300m hurdles, Korah Honig's throw of 31-03.00 feet for shot put, 
The boys also had many high placers; Ignatius Jackson was second place for the 100-meter dash and 200m dash with times of 11.25 and 23.98 seconds, Andrew Taipalus was first place in the 400m dash with a time of 55.15 seconds, Ben Dousuah threw 41-01.00 feet for a second place in shot put and he PR'd in Discus with a throw of 124-10 feet for first place, and Gavin Wenzlick was first in pole vault at his PR height of 9-00.00 feet.
The top four places of the 800m dash were all taken by Sharks; Dylan Marr with his PR time of 2:09.67 minutes, Nate March in second with a time of 2:16.07 minutes, Aaron Bowerman with his PR time of 2:18.10 minutes, and Craig Bebow in fourth place with a time of 2:18.57 minutes. The top four places in the 1600m dash were taken by Nate March, Keegan Honig, Bowerman, and Ben March. Honig, Bowerman, and Ben March were also victorious for the first through third positions for the 3200m dash.
Jay Puffpaff, the boys' track coach, has been overseeing the success for the entire season. He shared, "It has been a great year so far. We wrapped up the dual meet season undefeated for the first time since 2014. The team has set themselves up very well to have success during the championship."