Softball defeats Montabella at home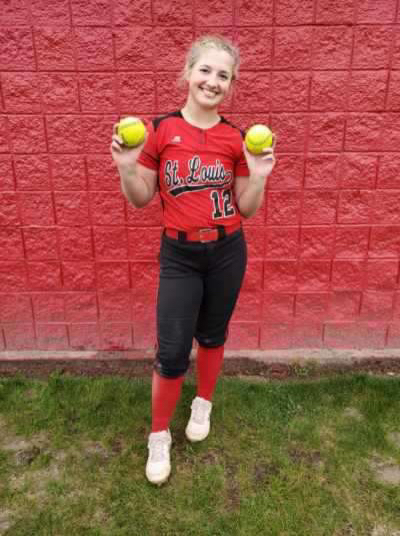 The St. Louis softball team absolutely destroyed the Montabella Mustangs at home, April 29, 2021. The girls demolished the Mustangs 19-1 the first game and 17-1 the second game in a doubleheader.
Izabelle Hrabal led the Shark attack with two grand slams in a three-a-bat series that yielded 10 RBIs.
According to Payton Kuhn, a sophomore who participated in the game, everyone put in their best efforts throughout both games. She shares, "We worked very hard in practice the night before and it obviously paid off." She states, "We got all our defensive outs which was uplifting." Kuhn also adds, "We also made all of our routine plays, which was exciting."
According to Hrabal, regarding the two grand slams, "I was nervous because I haven't been hitting very well in my prior games, so I was very excited that we won." She felt absolutely amazing after her grand slams because of her past games. She shares, "I felt very accomplished after the game because I was working very hard at practice the day before to get better at my hitting, pitching, and fielding and I think it really showed!
It is quite obvious that the Lady Sharks gave it their all and showed it throughout both games.