Senior Joe Erickson signs to run at Albion College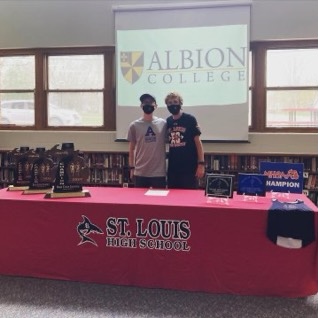 St. Louis senior athlete Joe Erickson signed Thursday, April 8, to continue his academic and athletic career at Albion College. Erickson will join the Britons as a member of their cross country and track and field teams.
Erickson has been running since middle school, and he's been a consistent force for St. Louis' cross and track programs for years. In fact, he helped lead the cross country team to a state championship his senior season! The Sharks won the state meet with a score of 113, and Erickson's clutch performance as St. Louis' fifth runner secured the school's first cross country state championship since 2005.
Joe reminisced on his high school career by sharing, "Looking back, I would have to say I am most proud of the team pulling through [and] winning the state meet even though the start may have not been what we hoped for. And I will miss the bonds as a team we have all formed."
Coach Jay Puffpaff has been coaching and motivating Joe for the last four years. He's seen Joe grow as a runner and as a person through the program. He stated, "I'm extremely proud of his hard work and dedication over the course of his high school career, and to watch him continue on that path and continue to have a positive impact on teams in the future is an exciting moment as a coach."
Erickson further commented, "My decision to run at Albion was heavily influenced by Coach Puffpaff, who made it sound like a place where I could find a team that would help me further my development as a person and a runner. My decision was also influenced by the family-like bond that I saw when I met a few of the runners there."
Erickson has been a staple in the program for four years. He has a 5k personal record (PR) in cross country of 17:15.0, and he's earned All-TVC conference honors multiple times. In track, he has achieved a 1600 meter PR of 5:15.5 and a 3200 meter PR of 10:59.1. However, he has big goals for his senior track season and will likely drop those personal bests significantly. Erickson has been consistent and very valuable to St. Louis' program, and his dedication and grit will be missed as he goes on to his collegiate career.