Girls' and boys' track and field dominates at Nouvel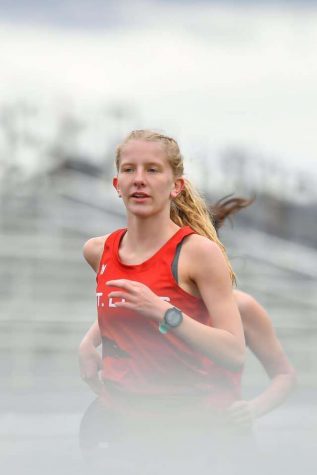 Both Girls' and Boys' Track beat Millington and Nouvel at Nouvel Catholic Central High School Wednesday, April 14. The Girls' Track team beat Millington 103-23 and Nouvel 121-12. The Boys' Track team beat Millington 104-17 and Nouvel 108-7. 
The top five point scorers for the girls were Chloe O'Boyle with 25 points, Libby Munderloh with 25 points, Monika Borie with 25 points, Jaiden Dickman with 21 points, and Payton Kuhn with 18.5 points. Natalie Lemert also ran a PR in both the 1600-meter race and 3200-meter race. Mikaila Borie also had a seven-inch PR in High Jump for a total of 4 feet 4 inches. Additionally, Monika Borie had an impressive first attempt at the 300 hurdles with a total time of 54.72 seconds. 
For the boys, Caleb Noak threw 101 feet 9 inches in discus. Ben Dousah threw a decent distance for shot put at 35 feet and 5 and a half inches.
Coaches for both teams felt that their team did well and kept themselves motivated. The girls' track coach, BJ Tomanek said, "We had a lot of Girls preform well on a cold night with very little competition to keep them motivated." The boys' track coach, Jay Puffpaff, shared, "Total team effort; the athletes showed up and competed hard doing what was necessary to bring home the victories."
Monika Borie, a top scorer last night, shared, "I think that last night was a good meet for all of us. We did well despite the weather. I am looking forward to our invitational at home Friday, April 16."
Many boys' and girls' runners are looking forward to Friday's invitational at home. They are going to have nine schools there. It will be the biggest event so far in either teams' season.