Shamrock Shakes make a return at McDonald's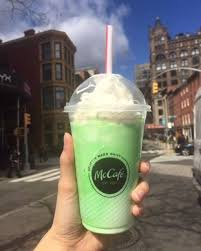 The minty-green "Shamrock Shakes" from McDonald's are back! These shakes come back every year around St. Patrick's Day. This year they came out Feb. 15, 2021.
According to the McDonald's website, the "Shamrock Shake" was introduced in 1967 in Connecticut. They are 800 calories. The ingredients to the shake include the vanilla soft serve ice cream McDonald's uses in all shakes, Shamrock Shake Syrup (which contains dyes and artificial flavoring), whipped cream, and a maraschino cherry. These shakes may seem good, but probably shouldn't be consumed every day. 
According to Paul Robinson, a sophomore at St. Louis High School, he doesn't enjoy them, but he can drink them. He says, "You can tell it's all artificial and the flavor tastes fake." He thinks they are okay sometimes just because they're only out for a limited amount of time of the year. 
According to Kiersten Wenzlick, another sophomore at St. Louis High School, she thinks they are delicious. She says, "I really enjoy these shakes because they're minty, but not too minty." She agrees that it's a fun way for McDonald's to have something for St. Patrick's Day. 
According to Bryce Francisco, a sophomore at SLHS, he does not enjoy these shakes. He says, "They taste very, very fake." He also says, "I do not like mint flavoring." He does think it is a good way to show off St. Patrick's Day, but he just really dislikes them. 
"Shamrock Shakes" are obviously very controversial in SLHS, but it's clear to say they are not healthy.