Jojo Rabbit…Nazi Satire?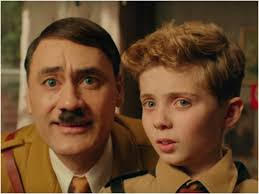 The first thought that went through my mind when I heard the title Jojo Rabbit was that it was an animated kids film about a rabbit, but when I realized what it actually was, I quickly got more intrigued. 
Jojo Rabbit is an amazing story about human nature, humanity, and the growth of people through conversation. The film, directed by Taika Waititi, who is best known for Thor: Ragnorok, revolves around a 10-year-old boy in Germany during World War II. All Jojo wants is to be a Nazi soldier, so much so that his imaginary best friend is Hitler. I know that may scare some people into not wanting to watch it, but it is worth the watch. His imaginary best friend isn't the person we all know as Hitler, but yet he is a figment of all the propaganda that was shown to all of the German children. 
Additionally, Jojo meets a Jewish girl, played by Thomasin McKenzie, who is hiding within his house. He slowly learns that his nationalism has blinded him into seeing not a person but a monster. As they talk, he learns that they aren't as different as the propaganda has made them out to be. The film is filled with comedy, drama, suspense, and heartfelt moments. Even though the film takes place during WWII, it isn't a period piece, but rather a satire film with some of today's lingo.
Jeremy Jahns, an entertainment critic, said "Taika Waititi, I thought he did great as imaginary Hitler."
The film has an amazing cast of actors and actresses including Taika Waititi (who won six awards), Scarlet Johansson, Roman Griffin Davis (who won an award for best young performance), Sam Rockwell, Thomasin McKenzie, Stephen Merchant, and Rebel Wilson. In total, Jojo Rabbit has won eight awards.
Jahns also said, "Not a lot of people could pull this off the way Taika Waititi pulled off Jojo Rabbit. I'd say this is genius."
All in all, Jojo Rabbit is a great film that brings a moment of joy and laughter to a harder subject to talk about. It is an outstanding film in my eyes, and I love how the film brings so much laughter and heart to a topic that most people avoid. The cast did an amazing job portraying their versions of the characters. I would highly recommend this film to anyone who loves history or who loves comedy.