The film Clouds leaves an impression on students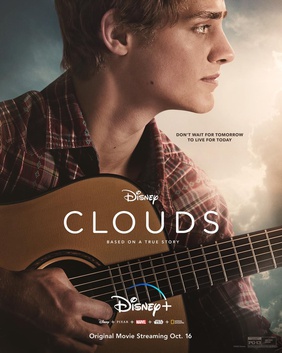 Clouds, a film based on the true story of a teenager battling cancer, was released via the streaming service Disney+ Oct. 16, 2020. The movie is based on the life of Zach Sobiech, a teenager who struggles with osteosarcoma, or bone cancer. The story begins by inferring Sobiech has almost completed his chemotherapy after enduring over 20 rounds of it and over 10 surgeries. However, right away in the movie, Sobiech is having coughing fits and is rushed to the hospital where tests are performed on him that discover his illness is now terminal. The doctors give Sobiech six to ten months to live.
The movie follows Sobiech's last few months as he tries to come to terms with his future. The film doesn't just show the struggles of Zach during this time but also shows how his illness affected his family, his girlfriend Amy, and his life-long best friend Sammy. Sammy and Zach wrote a lot of music together, but it wasn't serious before. Then, Zach writes a song titled, "Clouds," and he and Sammy post a video of them performing the song on YouTube. The song goes viral, and Zach decides to chase after his music dream while he still has time. It's an incredible story of how someone with a terminal illness copes with his fate and decides to keep living to the fullest instead of being overcome by the news of his inevitable future. St. Louis junior Korah Honig shared, "I'm very excited…I've heard really good things about this movie. It's cool that they took a true story and turned it into a movie for others to see."
Clouds is a heart-wrenching story, but it is filled with lessons that can be taken away. At one point in the movie, it is said, "Most teenagers out there feel like they're invincible. Not the superman kind of invincible, the kind of invincible that tricks you into thinking tomorrow might be a better day to start chasing your dreams." This quote pretty much sums up the primary lesson of the film: don't wait to try to achieve your dreams. Zach had to find out he had a terminal illness to then take his music dream seriously, but what this movie teaches people is not to wait. In the movie, Zach states, "I hope my story makes everyone realize, that you don't have to find out you are dying to start living." This movie leaves audiences feeling saddened by Zach's story but also encouraged to start living out their own dreams while they still have time.
Sophomore Jenna Abell said, "I thought the movie Clouds was very eye-opening. It really made me realize that tomorrow isn't promised and that we shouldn't take advantage of the little things. I thought it was a great movie."