Senior Keegan Honig overcomes adversity and injuries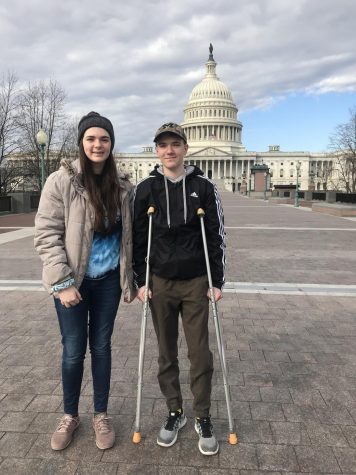 Over the course of the last 11 months, senior cross country stand-out, Keegan Honig, has experienced more pain than most distance runners are supposed to. Honig has had two hip surgeries in the past couple of years with the most recent one being in February to take the hardware out of his hips. 
Honig mentioned, "We still don't know why my hip broke, but what we do know is that the growth plate slipped and rotated 90 degrees before healing again. This meant they had to re-break my hip in order to fix it."
Through this entire process, Honig was not able to run to his full potential due to the fact that his hip was recovering from surgeries. 
Honig continued, "Recovery was really long and pretty hard, but I had people to encourage me that made it easier."
He desperately wanted to help out his team last year by having the ability to bring in a solid race time. However, all of his junior season was pretty much committed to recovery for him. Even though he wasn't able to race, he still found other ways to help out his team with his encouraging leadership. 
About six months after his first surgery, Honig was able to run again, but he had to start out with running only 30 seconds at a time and had to work his way up. Once he was able to run comfortably, he ran almost every day in hopes that he might regain his performance times. He trained as hard as he could all winter long before his second surgery that was scheduled in February. After his second surgery, he had to wait two months to start running again, and after he recovered, he was able to fully train again this past summer. 
Despite all the surgeries and the long recovery time, Honig returned to run his senior year with hopes that this season would be more successful. When he started running with his teammates at the beginning of the season, he knew that this year would be different. 
Honig commented, "I knew the team would succeed this year because we have a group of runners who are extremely hard-working and run for more than just themselves."
"It's a special group," said Puffpaff of this year's team. "They go out and work for one another, team over self. Across the board, everyone has stepped up and pushed one another."
As the races passed, Honig was strong, and he was improving his times significantly. He opened the season up with 18:13 at Chippewa Hills Aug. 26, and he finished his season with a PR of 16:33. That's an improvement of one minute and 40 seconds between the beginning of the season and regionals. 
The main goal of the Sharks' cross country season was to win the state championship, and with all of their performance times, the Sharks entered the state finals ranked second in Division three behind Hart and were one of the teams in the mix to win it all. 
On Nov. 7, the boys competed at the MHSAA state finals from Michigan International Speedway in Brooklyn. With every outstanding performance time that day, the boys were able to take home the state championship. 
Honig commented, "I think winning it this year with all the craziness and uncertainty of COVID-19, makes it that much sweeter. Of all the teams, we were the ones who handled the adversity the best and kept focused on the end goal."
As the season came to an end, Honig earned All-State honors from his outstanding race at the state meet. It certainly was a big accomplishment for him with all of the obstacles he has gone through. 
Honig continued, "It was a dream come true. I've pictured achieving it for so long, but I wasn't sure if I'd ever get there. I'm just really thankful."
Even though earning All-State honors was a goal accomplished for him, winning the state championship was more important to him. When the season started, this was the team's main goal and even with all of the complications this year, they still managed to pull off the victory with "strong hearts and fast feet." 
As Honig says farewell to the St. Louis cross country team, he is proud to have been a Shark, and he's even more proud to have been a part of a team that brought St. Louis a state championship. 
Honig concluded, "This cross program has been my favorite part of high school, and I have so much respect for Coach Puffpaff and for the rest of the school for always supporting the cross team and encouraging us."