Students react to Apple's new iOS 14 update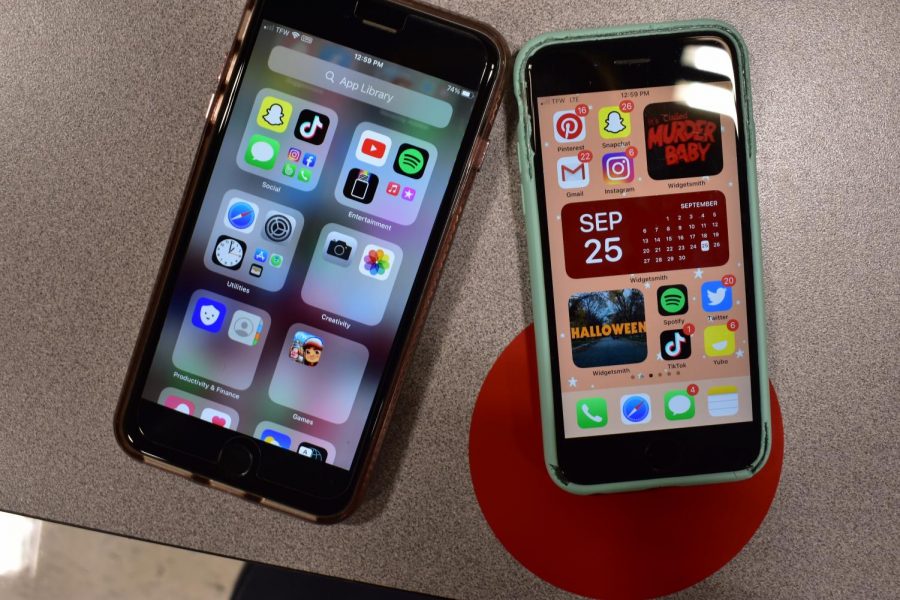 Recently, Apple has released the new mobile iPhone operating system, also known as iOS update. This update is the 14th and currently the most important iOS out there. It is only available with Apple products. The iOS 14 was first released Sept. 16, 2020, and it didn't take long for many people to use this to their advantage. 
There are many new and interesting things people can do with the iOS 14 update. One thing to do with this update is being able to personalize the home screen and applications. A way to redesign your home screen by using an app called WidgetSmith. This app helps place widgets and many other things on the home screen like pictures and a calendar but without it looking too tacky. There's even an option where the moon's phases can be placed on the home screen. Also, you are able to choose from different sizes of widgets. WidgetSmith helps app displacements and organization, but it can be very time-consuming. 
This app can be found in the Apple app store but to be able to download the app people will need to update their phone. This update allows a creative and a way to make phones even more personal and aesthetically pleasing. Also with the iOS 14 update, there is also an App Library if swiped all the way to the right it can be located. 
St. Louis High School students have taken iOS 14 head-on and are dealing with all the frustrations and hair-pulling experiences of redesigning their home screen. Yet, it's worth all the hard work in the end.
  One student who decided to update her phone and redesigned her phone was Helena Garza. It took Garza a little more than an hour to finish her display. Between figuring out how to work the app and how she wanted her apps and widgets displayed, Garza stated, "My favorite thing about the update is being able to put the differently sized widgets on the home screen because I think it looks very neat and is cool that we are able to do it on our phones." While organizing her home screen, she wasn't going for any certain aesthetic, but she wanted to be able to color coordinate her apps with her widgets. She also stated, "What drove me to update my phone was because I saw that all of my friends had a new update so I wanted to see what it was like. I also saw a bunch of videos of people doing the widget thing, and I thought it looked really cool so I wanted to try it." The most stressful thing for her was trying to figure out how to add the widgets but also the apps kept moving to the wrong spots. 
Another student at SLHS who decided to update and design their phone was Lydia Abbott. It took her about an hour and a half to complete her design. Abbott stated, "I was definitely going for a red/Grunge look for my phone. I was going for that look because I absolutely love the idea of it and the way it looks." She isn't planning on changing her home screen anytime soon but she might change little things here and there. She really likes how she can change more than just her wallpaper now. Changing the app icons was the most stressful for her. She heard about the update from Tiktok and her brother. Abbott thinks if she could just copy and paste and it would be way easier to design her home screen.