Sideline Cheer prepares for this year's football season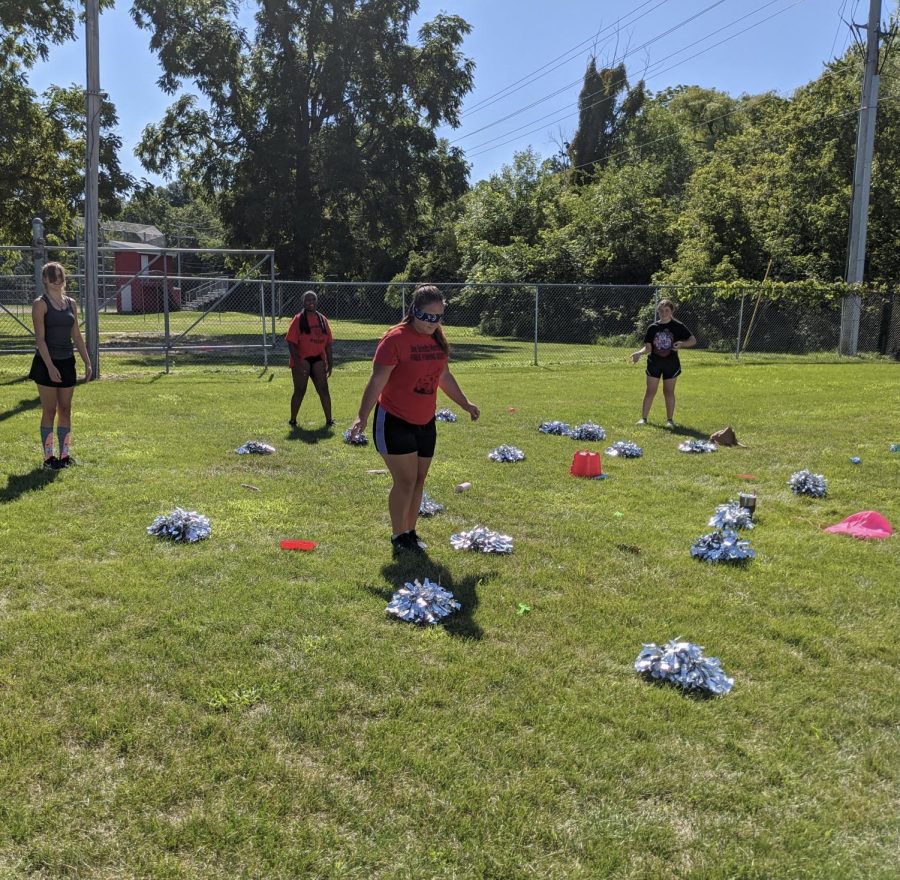 Every year, St. Louis High School has had sideline cheer. Only this year has brought a lot of confusion between getting ready for football, having football be shut down, and then surprisingly football being allowed. Cheer started meeting at the beginning of August, then had to stop practice at the end of August due to football season being shut down. Cheer recently had a meeting Sept. 7 regarding moving forward with the season with the regulations and the handing out of uniforms. 
The Michigan High School Athletic Association has rules with staying safe and protected against COVID-19. The rules sideline cheer has to follow are: wearing a mask during all practices and games, stay spaced 6 feet apart at games, and they aren't allowed to stunt. Other rules they have are that masks must be secured to the face while tumbling, and coaches are not allowed to spot any tumbling skills. There is to be no physical contact between anyone. The sharing of poms is also against the rules. 
Sideline Cheer consists of nine people including Coach Gabrielle Beckett. Those eight students are freshmen Jaycee Best, Jaycelin Sherman, and Chasity Markwell. The sophomores are Mikayla Haag, Mia Lawhorne, and Autumn Mann. Cheer has one senior, Dilynn Everitt.
This will be Everitt's last year on the Sharks' cheer team. She has been on the team for three years. Everitt stated, "I wanted to try something new and fun, and my sister had done cheer and recommended it. So I tried out, and I had a ton of fun and it led to three great years with a lot of awesome people." Everitt's favorite thing about cheer is the way the cheer team and the student body connect, and she enjoys watching everyone get so excited and get into the chants. Everitt also stated, "I'm a little upset that my last year was so different from the others, and that it was kind of cut short. But I am glad that I do get to chant with some awesome people who have become new friends of mine, and I get to at least spend some time cheering my senior year. A little bit of it with some restrictions is better than none at all.. that's my outlook on life right now. It could be worse."
  Coach Beckett stated, "I am very lucky this year because I pretty much have a brand new team. Only one person on the team has cheered before, so to the newbies, there aren't really a lot of changes to be made. We spend most of our time learning chants and perfecting basic skills, so not much to do with the new rules besides wearing a mask, which they are awesome at!." 
She is very excited about this year, but she knows that this year is very different from the past years. Because past cheerleaders have the experience and this year most of the cheerleaders are starting brand new.  Coach Beckett also stated, "I am most looking forward to taking this amazing opportunity we've been given to really work on some great team bonding. With cheer, there is a lot of trust you have to have in your teammates– trust they'll spot your new skill and not let you get hurt, trust that when stunting, they will do their part to not drop anyone or to not let anyone get hit or kicked. Trust is really hard to build when you don't know your teammates very well. Even if we didn't have regulations, I'm not sure we would have had a lot of time to learn many stunts this year with everyone being. So new and having to learn so many other things, so I'm very thankful to have a laid back year of learning, bonding, and growing as a team." 
Jaycee Best is a freshman this year at St. Louis. She has done cheerleading in middle school. She joined cheer because she loves it and has been doing it since she was little but it is also a way for her to get out of her comfort zone. Best stated, "My favorite thing about cheer is usually stunting, but since this year we can't do that, it's being able to meet new people."  Best knows it's hard but she's looking forward to next year and keeping her head held high.