St. Louis Cross Country travels to Caro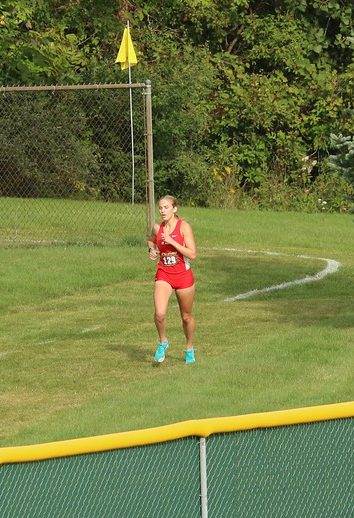 St. Louis Sharks Cross Country competed at a Quad meet Saturday, Sept. 12, at Caro High School. This meet featured Caro, Saginaw Heritage, and Breckenridge, along with St. Louis. The day was highly competitive and served as a learning experience for the Sharks.
The varsity girls' team from St. Louis took first place on the day with a score of 33. It was a close matchup as they beat second-place Saginaw Heritage by just six points. Libby Munderloh led the way with a personal first-place finish while coming in at 19:22.16 and earning a medal. Also earning medals were Mikenna Borie in second with a time of 19:59.99, Jaiden Dickman in third finishing in 20:36.09, Mikaila Borie in 13th with a time of 22:41.57, and Laney Pestrue in 14th with a finish of 22:42.91. Next was Payton Kuhn (23:09.56) in 16th place and Monika Borie (23:10.36) in 17th.
Coach Jay Puffpaff stated, "[The girls] raced well off a very short turnaround and are continuing to perform well against tough competition."
The boys' varsity team ran hard but fell short to Caro and Saginaw Heritage as they finished in third place. Though Caro pulled ahead with a score of 33, the Sharks' 58 was close to Saginaw Heritage's score of 52. So it was another close race on the guys' side. The Sharks had four medalists in the race. These runners were Nate March in eighth place with a time of 17:30.54, Ben March in ninth coming in at 17:32.42, Aaron Bowerman in 10th finishing in 17:33.85, and Keegan Honig in 12th with a time of 17:38.93. Next up was Dylan Marr (18:30.44) in 19th, Joe Erickson (18:47.64) in 21st, Alex Davis (19:33.78) finishing 25th, and Dominic Gilman (20:30.45) coming in at 28th place. It was stiff competition, and the Sharks competed well despite taking third place.
Puffpaff shared, "The race went out hard and [we] got stuck in the back a little too far, but we responded well the second half of the race."
The JV boys and girls raced together, but they were scored separately. For the boys' race, Alex Baxter finished first for St. Louis in seventh place with a time of 22:07.97, and Walker Aldrich was right behind in eighth with a time of 22:15.35. Baxter and Aldrich earned medals for their performances. Next up was Matt Haag (23:02.98) in 12th, Demetrius Alspaugh (24:01.39) finishing 13th, and Hunter Salladay (26:55.58) in 22nd place. For the girls' race, Natalie Lemert finished first for St. Louis and first overall with a 25:02.44 finish to earn a medal. Next up was Lillie Shattuck (27:47.76) in 11th place and Gracie Shattuck (27:56.78) in 12th.
Baxter said, "The course wasn't amazing for me, but I still did okay, so I'm proud of that. I got a medal; it only took four years."
Additionally, Puffpaff said, "JVs performed really well. Their effort level was great, and they are continuing to make the stride necessary."
It was a fairly tough course with sharp turns, winding trails, and even some hills. Regardless, some Sharks pushed through to run a personal record (PR). On the guys' side, Hunter Salladay had an impressive 49-second PR, Keegan Honig had a 20-second PR, and Nate March ran a six-second season PR. On the girls' side, Gracie Shattuck ran a 12-second season PR, Natalie Lemrt had a 10-second PR, and Jaiden Dickman achieved a seven-second PR.
The Sharks are back in action Tuesday, Sept. 15, at Stratford Woods, for their first TVC competition.