Sharks Cross Country competes at Chippewa Hills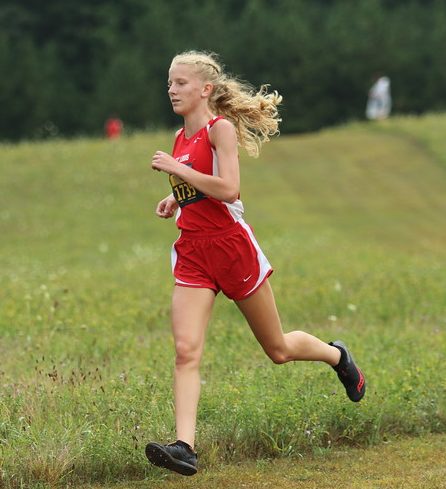 St. Louis Cross Country competed at its first meet of the season Wednesday, August 26, at Chippewa Hills. There was rain and humidity during this Tri meet against the host Warriors and Shepherd, but that didn't stop the Sharks from competing at a high level.
The boys' varsity team captured a win with an impressive score of 22. Finishing first for St. Louis was Aaron Bowerman, who earned second place overall while running 18:06.4 on the tough 5k course. Next up was Nate March in third with a time of 18:12.6, Keegan Honig in fourth at 18:12.9, Ben March in fifth place at 18:15.0, and Dylan Marr finished in eighth place at 19:16.8. Rounding out the varsity squad was Joe Erickson (20:01.6) in 14th, Alex Davis (20:07.9) in 15th, Craig Bebow (20:35.0) in 16th, and Dominic Gilman (23:46.0) in 24th place.
Bebow shared, "The meet was very different and more difficult. If you ask me, the lack of teams and runners made it more on you to push yourself if you weren't in one of the few packs."
The girls' varsity team ran well, taking second place with a score of 36 (only two points behind the winning team from Shepherd). Libby Munderloh led the Sharks in second place and with a time of 20:30.8. Next up was Mikenna Borie in third place with a time of 20:57.3, Jaiden Dickman in sixth with a time of 21:55.9, Payton Kuhn in 12th coming in at 23:30.0, and Monika Borie in 13th place at 23:41.1. Following them was Laney Pestrue (24:34.0) in 17th place, Mikaila Borie (24:51.7) in 18th, Brooke Erskin (28:01.5) in 26th, and Natalie Lemert (28:04.9) finishing 27th.
Boys' and girls' JV raced together, but they were scored separately. Will Erickson won the boys' race with a time of 22:14.6. Next for the Sharks, Alex Baxter took second at 22:22.6, Walker Aldrich took fourth at 23:35.1, Matt Haag finished fifth at 24:56.5, Demetrius Alspaugh was seventh at 27:03.0, and Hunter Salladay took 10th at 34:23.4. Lillie Shattuck took ninth place among the JV girls running 29:12.8, and Gracie Shattuck finished 12th at 34:17.7.
Mikaila Borie stated, "The cross team was lucky enough to have a race this weekend. Our team jumped at the opportunity and used the hard work we've built up over the summer to race tough. Most times were slow due to conditions, but the effort was there, and that's what's important."
St. Louis will be back in action Saturday, Sept. 12, at a quad meet in Caro, where they will face some of the toughest teams in the state in Caro, Breckenridge, and Saginaw Heritage.