St. Louis students travel to FFA Convention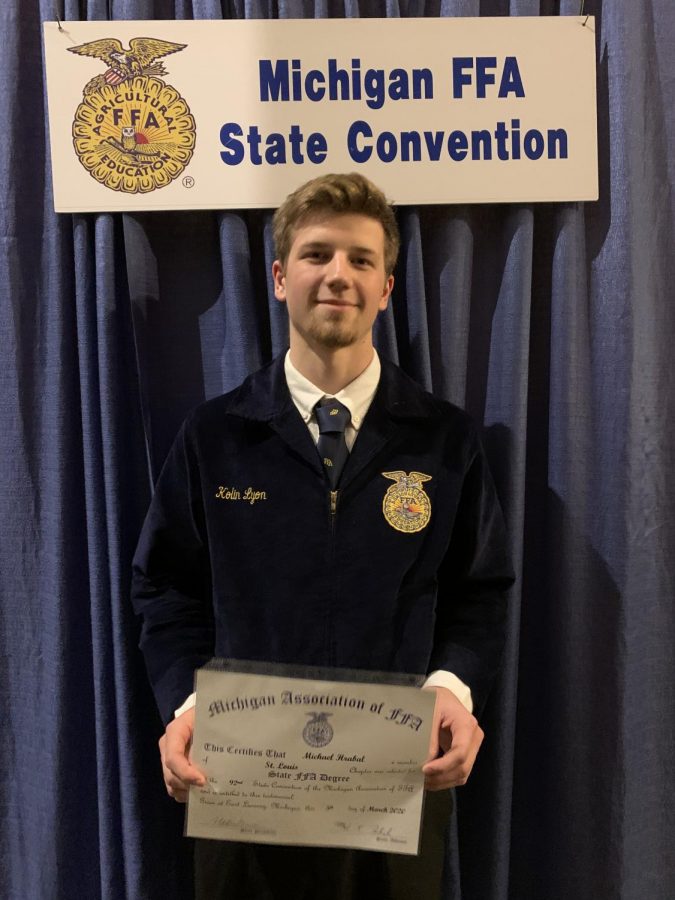 Saint Louis High School students attended the 92nd Michigan State FFA Convention at Michigan State University, Mar. 4-6. 
The FFA State Convention is the accumulation of the activities of the state association for the 2019-2020 academic year. At the convention, FFA leaders are recognized for their accomplishments over the years of effort they put in. 
FFA advisor Mr. Bernia said, "I'm extremely proud of our Saint Louis students. In my first year, we had zero people receive outstanding juniors awards, only three received state degrees, and our chapter was only allowed two voting delegates. This year our student leaders have improved not only the quantity of membership but also the quality. It is my hopes and dreams to continue down this path of only moving forward." 
Students who attended the event were Michael Hrabal, Izabelle Hrabal, Luke Maxwell, Kassidy Acker, Taylor Marr, Jaden Simmons, Jennifer Brown, Skylar Rodriguez, Haylee Davis, Andrew Zimmerman, Deagan Dosson. and Tucker Harrison. They were chaperoned by Matthew Bernia. 
Delegates consisted of Izabelle Hrabal, Simmons, and Davis. As delegates, they had to vote for the next state officers. 
Izabelle Hrabal said, "It was a good eye-opener to thinking about what I should do next year with doing demonstrations and possibly being an officer…I felt pressured when voting for the next state officer. I didn't want to make the wrong choice because I really didn't know the candidates." She adds that she can't wait for next year to explore new opportunities. 
Saint Louis FFA students received awards for their effort put into this year's FFA: five senior members received their state FFA degree; four outstanding junior awards were given out; eleven academic excellence awards were rewarded.   
Michael Hrabal was one of many to volunteer and help at the event. The first day Hrabal's duties consisted of regulating the flow of people entering and leaving Green and Conduct of meetings. 
Michael Hrabal said, "I had a great time going to the FFA State Convention. It's a great opportunity to step outside your comfort zone and experience diversity in the communities. I highly encourage others to take this step next year and participate."