Qualifying Shark bowlers, wrestlers head off to state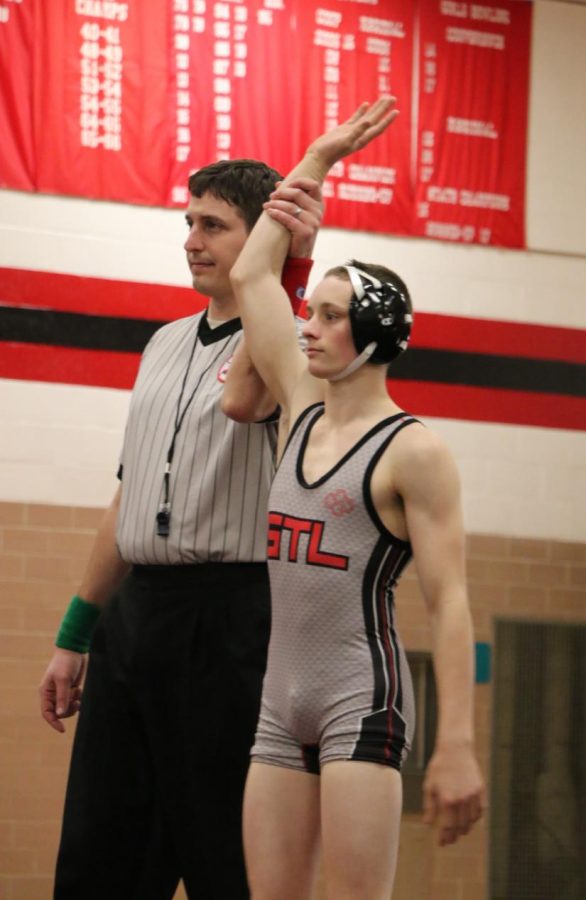 Recently, a handful of St. Louis High School students traveled to separate state athletic competitions. Wrestlers Gavin Giles, Alexander Newton, and Dylan Marr went to the wrestling state championship at Ford Field Friday, March 6 and 7. Meanwhile, Shannan Mitchell and Jaden Simmons, St. Louis bowlers, went to state to compete at Royal Scot Lanes in Lansing, March 7.
Newton stated, "I felt prepared for the meet because I have some of the best coaches in the state, the best workouts during practice, and a bunch of support from everyone at the school. Also, I was mentally prepared, not only from my coaches, but because I was the only one who went to basic training and knew my capacities as I went in, which gave me more confidence than ever."
Shannan Mitchell explained her state experience, "My state experience was a little rough. I didn't bowl that great, so I was frustrated, but I was still glad I got to go. I don't have any regrets. I don't think there's really anything to regret. I mean, it's states. Who can regret making it to states?"
Coach Kuhn, St. Louis wrestling coach, gave some extra details from the wrestling tournament. Kuhn stated Newton placed fifth and, as of right now, is the only senior at St. Louis High School who has earned all-state honors. "That is certainly an accomplishment to be proud of," he added.