Three wrestlers qualify for the state tournament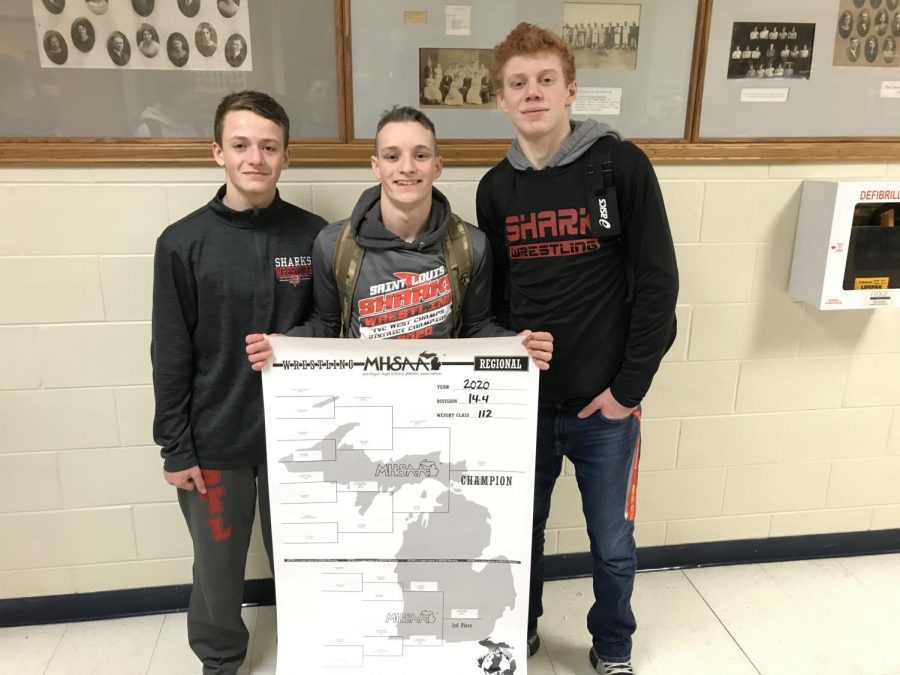 Three boys from the Saint Louis varsity wrestling team advanced through regionals to compete at the state competition in Detroit at the Ford Field arena, Friday, March 6. This includes seniors Gavin Giles and Alex [Fig] Newton and freshman Dylan Marr. 
Marr stated, "I'm very prepared because Coach Kuhn has taught us all the stuff we need to know. Now we just need to use the moves the right way.  I feel good going into the state meet because we will have had two weeks of rest." Marr added that he is looking forward to getting a break from non-stop practices. 
Newton said, "I am feeling good going into the state meet, but I feel that I need to buckle down and focus more to get the dub. I am very prepared for State but still have a lot of preparation to do. I am looking forward to eating mostly, but all of the experiences to happen." Newton adds that he hopes he accomplishes being state champ. 
Giles stated, "We've worked hard for three months every day from three to five. I've put in the time; I've gotten the extra workouts in. We're ready. I'm hoping to accomplish wrestling my absolute best and battle for a state title." Giles added that he's looking forward to finishing school in the next couple of months and starting a new chapter in life. 
The competition will take place in Detroit at the Ford Field arena, Friday, March 6.