Wrestling secures its fifth district title in a row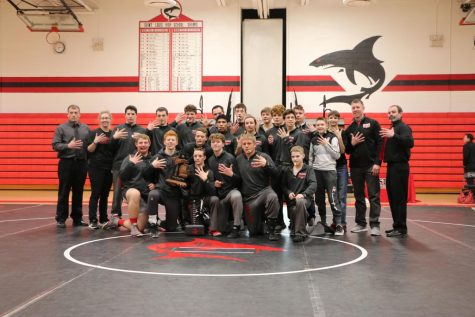 The varsity wrestling team took home its fifth consecutive district title Feb. 11, in the Shark Tank. 
The night began with the Sharks defeating the Beaverton Beavers 54-27, and later on they defeated the Coleman Comets 66-15. Two-match winners on the night were: Robert Long-Terwilliger, Alex Newton, Dylan Marr, Helena Newton, Lochlan O'Boyle, Gavin Giles, Andrew Shattuck, and Justice Onstott. Long-Terwilliger earned the hammer of the night by securing the team win over Beaverton with his first-period pin. 
Gavin Giles mentioned, "It was an amazing feeling knowing we were able to continue the streak. It was a great environment to be in, and I'm so glad I've been on this team."
Coach Kevin Kuhn commented, "I feel like we wrestled well enough to get by. We had some matches that we were in total control of, and we managed to lose those. We need to work on protecting a lead and short time situations."
This is the first time in Shark history that the varsity wrestling team has won five consecutive district titles. The next competition for the Sharks is team regionals at Hemlock Wednesday, Feb. 19, 2020.