Poms takes fifth place at State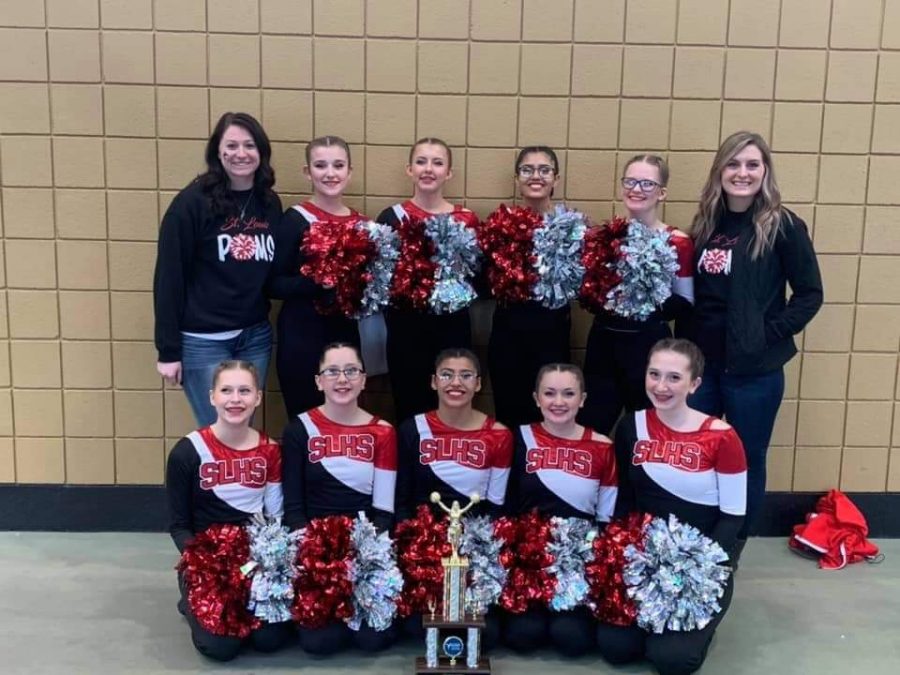 St. Louis' varsity poms team went to Eastern Michigan University to compete in the Mid American Pom State Championship Feb. 9, 2020, and placed fifth out of six teams. Their division started at 11:20 a.m., and they were the first to go. This was the last competition for the season, and they left it all on the floor.
A senior on the team, Reyna Rojas, stated, "I am going to miss performing the most. Performing gives you such a rush and a feeling that is indescribable. I will also miss seeing the girls I love most every single day after school."
Sophomore Samantha Burt, added, "I'm glad I joined the team. It really taught me a lot about teamwork, and I made friends with the coolest and most kind people. I'm super proud of how we performed; we pushed through as a team."
The season isn't quite over for poms. The team has "Little Girl," a performance where the members on the team teach girls kindergarten through eighth-grade students different routines, and they perform them during halftime of a basketball game. The team also has Guy/Girl, a performance where each member of the team brings a guy to practice and they learn a fun upbeat routine together and perform at halftime during a basketball game. "Little Girl" will be performed Feb. 25, 2020, during the varsity boys' basketball halftime, and Guy/Girl will be performed Feb. 28, 2020, during the varsity boys' basketball halftime.