Varsity basketball viciously defeats the Vandals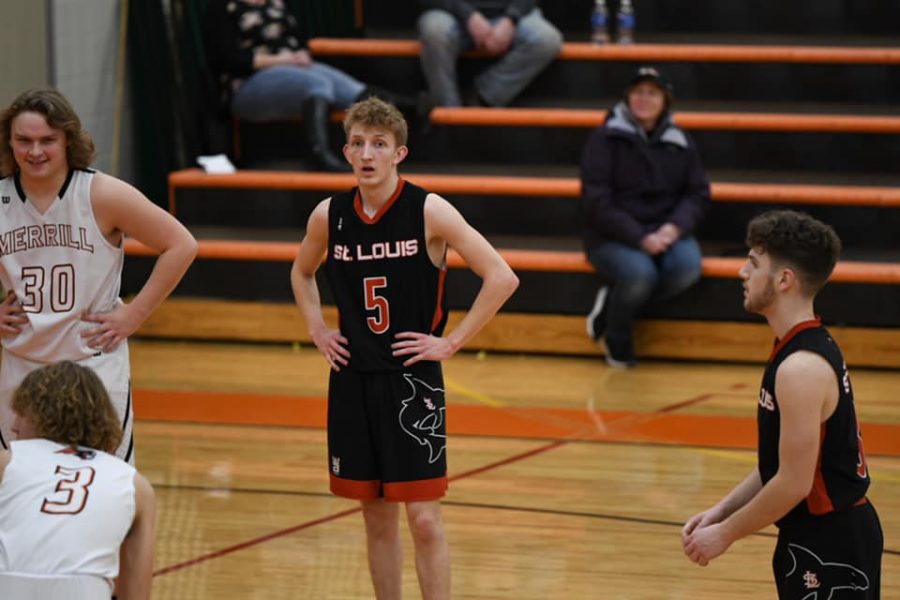 Saint Louis varsity boys competed against Vandals of Merrill  Feb. 4 at Merrill High School winning 54-41. Cade Pestrue scored 23 points leading the team to a victory. Pestrue shot 7/12 from three-point and 1/4 from inside the arc. 
Pestrue said, "It feels really good being able to lead the team to a win. If it weren't for my teammates passing to me and moving the ball to get me open, I wouldn't have scored as high as I did." 
Patrick Hanley and Cade Pestrue led the team in total rebounds with seven each. Hanley had five on the offensive end and two on the defensive. Pestrue had three on the offensive end and four on defensive. Trae Garcia contributed with five assists and three steals. Garcia shot 28 percent totaling six points. 
Noah Prestage said, "Finally getting a win has a good feel to it. I hope we can keep this up and take home more W's for the Sharks."
Not only did the varsity win, the junior varsity did as well. They blew out the Vandals by 32 points, 65-33. 
The Saint Louis varsity girls' and boys' Sharks take on the Hemlock Huskies Feb. 7, at home. Girls start at 6:00 p.m and boys at 7:30 p.m.