Varsity drops games to Chargers at home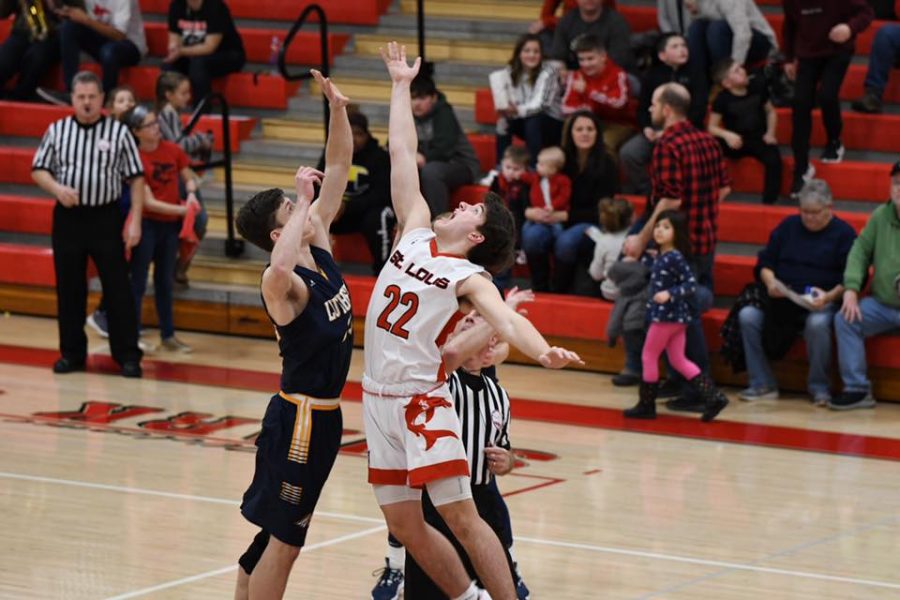 Keegan Honig and Trevin Robinson, Editor
January 22, 2020
St. Louis varsity basketball played against the Valley Lutheran Chargers Friday, Jan. 17 at the Shark Tank. Varsity girls played first and fought hard but lost 64-22. Joslynn Clark led the team in scoring with six points, and Chloe O'Boyle added five.
Skylar Rodriguez shared, "It was not one of our best games, and our shots weren't falling."
Mikaila Borie said, "Overall, we didn't play to the best of our ability. We haven't all year. I feel as though Friday a majority of us had a rough game, and that was what really hurt us. I feel as though something on our team is missing, or we don't put everything together in any one game, and that's our biggest downfall. Hopefully, by the end of the season, we can pull it together."
The varsity boys' game followed, and the Sharks played tough against the Chargers. The team almost pulled off a valiant comeback, but their efforts were too little too late as Valley Lutheran kept the slim lead to win 53-47. The Sharks' record is now 2-5 as they prepare to battle Nouvel Catholic Central Tuesday, Jan. 21.
A bright spot for the team was junior Cade Pestrue, who led the Sharks in scoring with 23 points. He shot 75 percent from mid-range and was near 50 percent from three-point land. 
Corban Allen was another noticeable player of the night with a total of nine points, eight rebounds and three blocks.  Avante Taylor plays center position alongside Allen. Taylor commented, "Our team can shoot better if they were more focused on playing one quarter at a time. Our offense was good up until the fourth quarter when our team gave up."
Additionally, Trae Garcia, Noah Prestage, and Ethan Wilson each had four assists, which led St. Louis, and Allen led in rebounding with eight.
Coach Doug Knauf said, "We were down by 10 with a 1:58 left, and with 30 seconds left we had two chances to tie or go ahead, so we just have to play a complete game."