Sharks drop close game to Jackets for the bell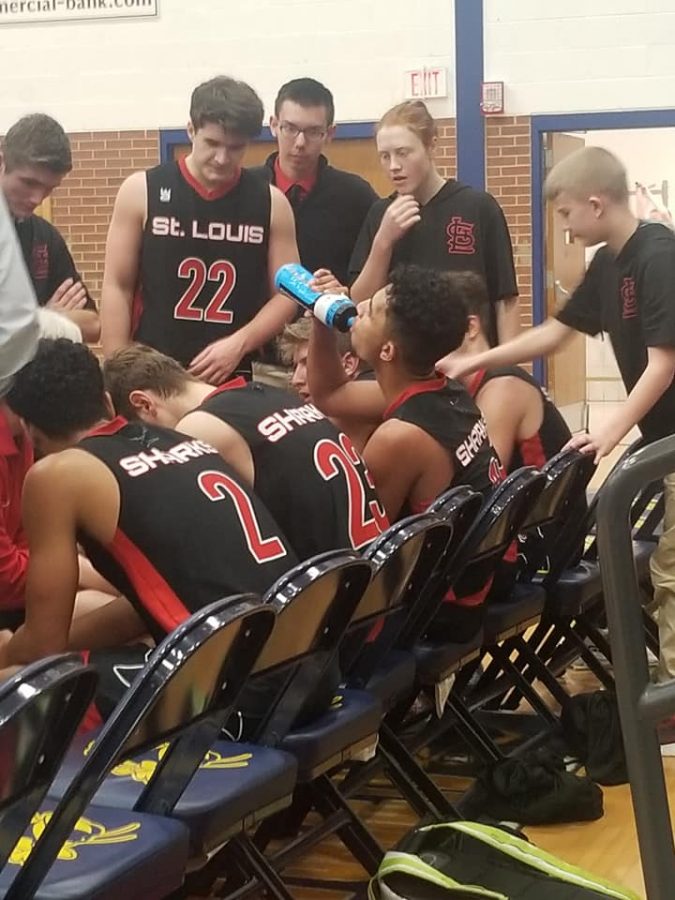 The varsity basketball team came off of holiday break ready to compete against the Ithaca Yellowjackets. This was the classic rivalry game for the bell. The junior varsity played first, and they suffered a loss with the final score being 46-27. The varsity guys came out ready to compete, and they had all the effort, but sadly ended up losing 46-42. 
This was the first time the Sharks played under new coach Doug Knauf. Mr. Knauf started coaching straight out of high school. He's been coaching for 35 years!  He previously coached the Sharks for 18 years. He came back to coach the Sharks for another year. This year the Sharks have already gone through a lot of changes with coaches, offenses, and defenses. Coach Knauf stated, "I'm glad I was able to come back to coach. This is a great group of kids, and I'm excited to see what they are gonna accomplish."
During the game, the opponent didn't get up by more than six points throughout the whole game. The Sharks had learned a new offense over the break and were just starting to really put it together. Captain Ethan Wilson stated, "We did not execute our plays as well as we wanted to, but we still got good shots up." 
The leading scorer for the night was Junior Cade Pestrue with 13 points and 2 rebounds. On defense, senior Corban Allen had six rebounds and one block. 
Starting the fourth quarter, the Sharks were up 30-23 on the Jackets. This was a solid lead that provided the Sharks with some breathing room going into the fourth. The Sharks were ahead going into the fourth quarter, but began throwing the ball around carelessly. Although the Sharks only had seven turnovers throughout the game, they did have four in the fourth quarter alone. 
The game came down to the wire, and the Sharks lost in the last five seconds. 
Varsity guys are in the Shark Tank Friday, Jan. 10, and they will compete against a new conference opponent Millington. The JV was away at Millington Jan. 9, and won 48-37.