Mr. Caszatt makes it a point to put smiles on students' faces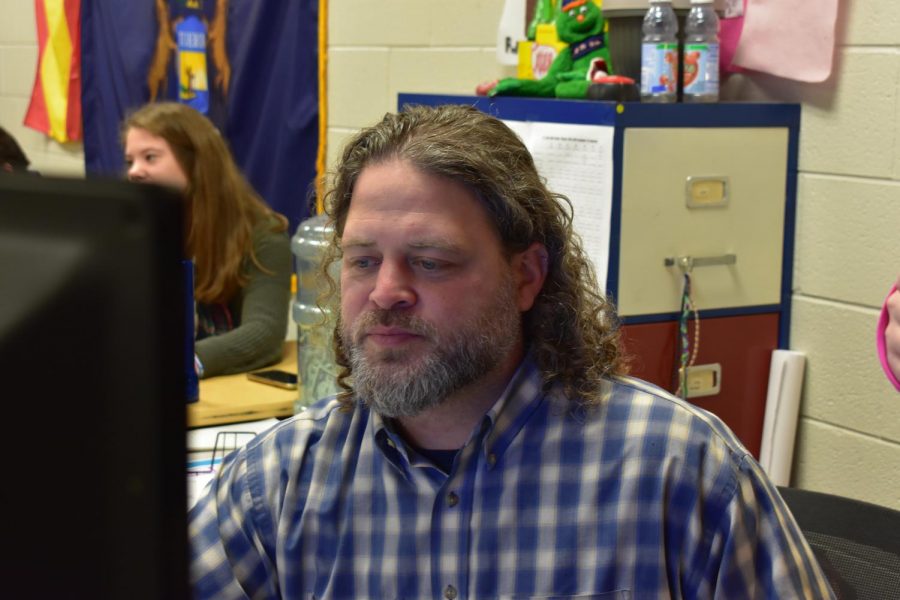 You get up late for school with no ambition for the day. When you finally walk into third hour, Mr. Caszatt has a big smile on his face. In that moment, you realize your day is going to get better.
Mr. Caszatt is a teacher here at Saint Louis High School who teaches United States and World History. He is a father of two sons named Nolan and Tait and a husband to Carlin. He likes to spend most of his time canoeing, camping, hunting, fishing, and  riding his mountain bike. He also enjoys reading, watching movies, playing guitar, and listening to music.
Growing up, Caszatt had a very endearing childhood. He stated, "I had a great childhood,  a large family, and good friends. My parents instilled in me the importance of family and loving friendships."  Caszatt added that his dad grew up on a farm and his mother in the city, but he had the best of both worlds. 
Caszatt got into teaching when his younger cousins needed help on an English assignment. Caszatt states, "I have always liked to read and write so I offered to help him. I took him to the library and helped him look up different poems and the literary terms that applied to them. Watching the proverbial light bulb go off in his head made me want to help other people reach that point." After high school, Caszatt attended college at Saginaw Valley State University and got his undergraduate degree.  Caszatt said, "I double majored so it took a little longer, but I also had to retake a few classes that no longer would transfer. During this time I also had a family and a job. It took me six years to graduate." He has a Bachelor of Arts in English and History. Later, he earned his master's degree from Central Michigan University in educational technology.
Caszatt started teaching in 2009 at T.S. Nurnberger. His first job was seventh grade English and sixth grade Geography.  When technology was introduced into the teaching world, he thought it would be more beneficial than it is. Caszatt states, "Instead, it seems like more of a distraction, especially for the underclassmen." His goal as a teacher is to help form critical thinking, problem solving, and thoughtful and productive members of society. Since he started teaching here, Saint Louis has helped make him who he is today because he sees the caring and compassion in the students, staff, and community. Caszatt states, "I am reminded every day that students can be thoughtful and caring."
Getting to know students on a personal level is very important to Caszatt. "Building relationships is key. Kids won't learn from people they don't like. I heard it once said that students may not always remember what you taught them, but they will always remember how you made them feel," he said.  Caszatt added that everyday his students remind him there's still good in the world. As a teacher, he hopes students take away that they believe in themselves and that they matter.
Kira Dowell, a fellow student of his, said, "He has impacted me by always being there. When I was in his class, he was always a constant. I had an extremely rough freshman year and him being the one person that remained constant helped a lot along with the fact that he was always happy." Dowell added that one of her favorite memories is when Mr. Caszatt slammed a book on a desk when Noah Prestage was passed out and Noah then fell out of his chair. One learning experience Mr. Caszatt has done to get her ready for the real world is you don't always get what you give in life and that's okay. 
In the end, Mr. Caszatt is one of the many great teachers here at SLHS. The teachers try their absolute best to put their student's learning first. Teachers really do have a huge impact on a student's life. William Arthur Ward once said, "The mediocre teacher tells. The good teacher explains. The superior teacher demonstrates. The great teacher inspires."