Outstanding staff member: Mrs. Biehl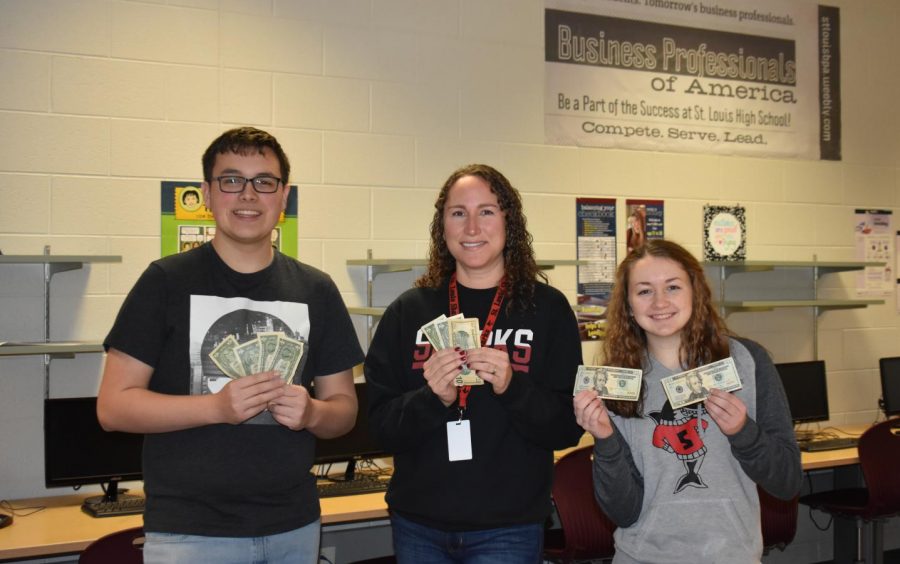 Being blinded by the stage lights, you are lined up next to your top ten opponents competing against you. The announcer starts naming off 10th place and ninth place until there are only three left. Slowly the suspense is building as you stare into the crowd and see Mrs. Biehl holding back her excitement. Suddenly you realize your name has not yet been called and you are the last person standing. In shock, you accept the Business Professionals of American first place award and hoist it up. When you walk down the stage, Mrs. Biehl, your BPA adviser, is there to meet you beaming with pride. 
Mrs. Biehl has been working in the Shark Tank for a total of nine years. Within nine years, she has taught Career Tech, Computer Tech, Accounting, Intro to Business, Financial Management, and she coaches girls' golf. She stated that Financial Management is her favorite subject to teach. She loves to teach things that will help students make good financial decisions down the road. She added that she likes the other subjects she teaches, but the material is better in Financial Management.
Before taking her job at Saint Louis, Mrs. Biehl attended college at Central Michigan University. She decided to graduate college with little to no student debt, so she spent most of her time working. She worked as a lifeguard at the St. Louis pool and later got promoted to manager. She also worked at a local party store to help pay for her college education. While in college, she did not have any time to play sports, but in high school, she played basketball and softball. She added, "I also played volleyball for a short time but did not enjoy it nearly as much as my other sports."
Outside of working at the high school, Mrs. Biehl likes to spend time with her husband, Jason, and her three kids: Dottie, Konnor, and Lyla. Her favorite pastime is baking, and she also enjoys going on runs to keep herself healthy.
Additionally, Biehl is an adviser for Business Professionals of America (BPA). She has been an adviser for a total of nine years at St. Louis. Before she got her teaching job at Saint Louis, she worked at Morey Public Schools. While at Morey, she started a BPA chapter but it never grew to be very large. She commented, "I like BPA because it pushes kids to try something new and encourages them to step outside of their comfort zone. My favorite part is the State conference every year. It's fun seeing how kids are able to handle independence outside of the school environment."
Allyse March has been doing BPA for a total of three years. She is currently a senior and has taken on the role of President for the Saint Louis chapter. March said, "I have been so proud of Mrs. Biehl's hard work for the last few days. Pre-submitted events for Business Professionals of America were due on the third of December. Many of the students competing like to procrastinate every year and have to finish their events the morning of. Mrs. Biehl is the one who is willing to proofread everything from resumes, to graphics, to essays to make sure all of the students meet the deadlines." March added that Mrs. Biehl is always full of great ideas, and she always wants everyone to reach their full potential in the world.
Mrs. Biehl always had a helping hand in BPA whether it was Mrs. Reeves or Mr. Goward. Unfortunately, last year Mr. Goward left St. Louis to go pursue another teaching job at Clare. This significantly increased the workload of Mrs. Biehl and Mrs. Reeves. Mrs. Biehl said that she feels like Mr. Goward brought something to the school and BPA environment that we cannot replace. She added, ¨On the other hand, it is weird not teaching with him. I talked to him during school a lot. It has definitely been weird without him and we definitely miss him.¨
Mrs. Biehl said that she feels very fortunate to have her job at St. Louis, and she enjoys working here with all of her coworkers. She added that she loves getting close to students through BPA and golf and learning more about them than she would have in the classroom environment.