SLHS welcomes another new member to the coaching family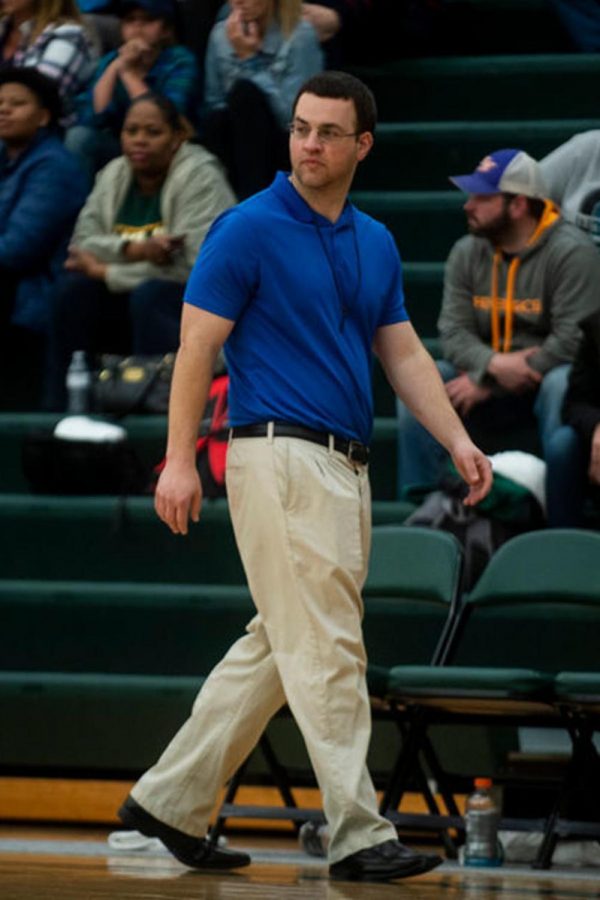 St. Louis continues to add new members to the Shark family. This year the varsity girls' basketball team has a new coach, Steve Schwanda. Schwanda does more than coach, he has a company on Youtube, he holds basketball camps, and best of all, he is a certified NCAA recruiter. Schwanda has met with people from all over the country who have influenced the way he coaches and the people he recruits.
Schwanda has been an assistant varsity coach for the Mt. Pleasant boys for six years. Schwanda has also coached at Mt. Pleasant Sacred Heart. He went on to coach the middle boy's basketball team at St. Louis, and now he is the head coach for the Varsity girls' basketball team. Schwanda stated, "I try to take things from as many coaches as I can, the coaches I have worked for, Coach Carbee, Coach Taylor, Coach Schell, Coach Brotherton, Coach Smith, and I have read almost all the books about Coach Wooden. Coach Don Meyer is also someone I got a lot of stuff from." Additionally, he went on to assist Athletic Amateur Union teams by coaching them. He coached two different AAU teams including, U-15 and U-16 at Mt. Pleasant. 
Schwanda has a website and Youtube page for a recruiting service called "All Eyes On You Hoops." He has been certified by the NCAA as a recruiter for basketball teams. Schwanda stated, "I have worked a number of camps all around the state, including my own Fall Showcase that I put on."
As a first-year coach for the varsity girls' basketball team, Schwanda already loves his spot in St. Louis. Schwanda said, "I enjoy coaching at St. Louis because it is a great community with a lot of great people." He is ready to take on the challenge of coaching a different team, but he has never coached girls before. He said, "Coaching girls is a little different than boys, but both are enjoyable. Girls tend to listen better." He is excited to be apart of the team this year, and he has only one goal. Schwanda said, "All I expect is for the girls to continue to work hard every day and get better. That is our only goal is to get better each day." 
This year Schwanda is already making good impressions; players on the team have nothing but good to say.  Senior Joslynn Clark stated, "I like Steve a lot.  He is very funny, and he does a good job instructing us in our drills. I can't wait for our first game; it's gonna be great."