The man, the myth, the legend: Knauf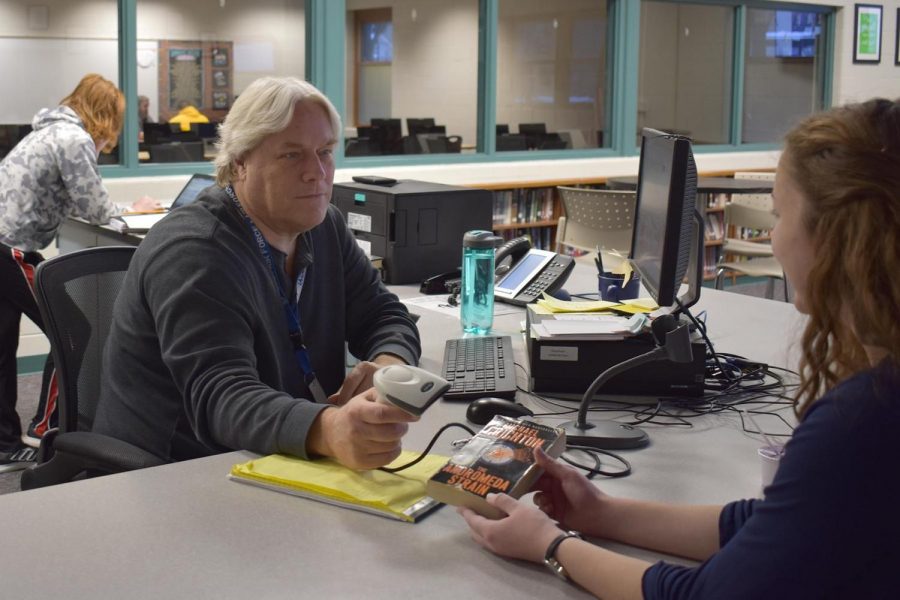 Whether it's getting books the week before school starts or breaking your Chromebook, you walk into the library for your very first time as a freshman. This new environment is still unknown and you are trying to learn names and faces. However, as you enter you're greeted by a mysterious man. He doesn't tell you much about himself, but you can tell he has a fun sense of humor. You leave wanting to learn more about the man the students call Knauf.
Doug Knauf has a couple of interests outside of working at the high school. He has a total of four kids: Natalie, Nick, Nate, and Nolan. He spends time outside of school with his kids and also enjoys walking his dogs. He makes it an important part of his day to watch and care for his dogs.
Knauf has been working at St. Louis High School for a total of 36 years. Last year, he was awarded his 35-year award. While he has worked at the high school, he has held many different positions such as a gym teacher, a librarian, and a coach for basketball, football, and baseball.
Mrs. Biehl attended high school at St. Louis while Knauf was working. She stated, "When I went to school he coached basketball. I had two gym teachers and he was the male teacher. When we went to the weight room, he was always there to help us with our workouts. I remember him always having a funny sense of humor."
Allyse March is a senior at St. Louis High School. She has been taking dual classes for a total of two years. She talks to Knauf every day while she's in the library. She commented, "My favorite part about Knauf is that he is always willing to talk to us and put up with us. He lets me present my presentations to him for my dual-class so I know they are up to standard. I know that I am always able to vent to Knauf and he will listen. He genuinely cares about all of the students and wants them to be successful. He has a very dry sense of humor but is still very funny." March added that Knauf may be stubborn at times, but she would not want anyone else working in the library.