Tracy Thornton helps out music program with steel drum clinic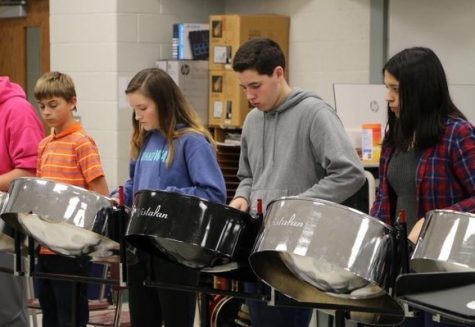 The St. Louis High School steel drum bands had the opportunity to get out of class Tuesday, Nov. 12, to learn from one of the most recognized steel pan players in the country–Tracy Thornton. Thornton has travelled to numerous countries to perform and teach music, and he has enjoyed a very successful career as a steel pannist for over 20 years! He and SLHS band director Stephen Lawhorne arranged a small clinic for the bands here to just be able to learn from Thornton and learn a new song as well.
Matt Haag stated, "Tracy is really good at steel, and it was a privilege to learn how to play some songs from him. His way of writing music is really different from Mr. Lawhorne's, and it was definitely an interesting experience."The second-hour steel band class got the opportunity to learn from Thornton throughout the morning, and they learned a mash-up of popular Christmas tunes from Thornton. Lunch was then provided for all the high school steel students, and then the after-school steel drum band had their clinic in the afternoon. They learned an arrangement of "We're Not Gonna Take It" by Twisted Sister that Thornton composed on-the-spot. The middle school steel band also had a clinic after school to get the chance to learn from Thornton.
Dilynn Everitt shared, "Tracy is a very talented artist, and it really was an honor to be able to not only work with him but [also] see his process in writing music. It was a fun way to learn great music, and I'm really glad I got to be a part of it."The clinics were a great opportunity for the music students at SLHS to learn from an accomplished and talented musician, and the steel bands also got to add another song to their setlist for the year. It was definitely a success for the music program here at St. Louis.