This superhero wears a lab coat, not a cape!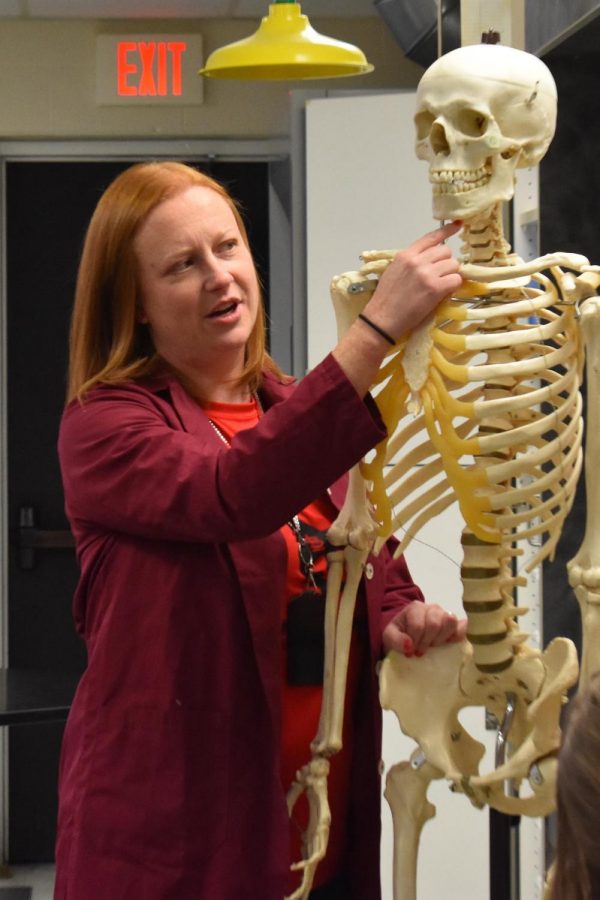 Super Sandy to the rescue! When you are in need of help who are you going to call? SUPER SANDY. This superhero has the ability to help others solve their problems. She also has the power to teach the youth about science. 
Mrs. Dubridge is a Saint Louis High School teacher. She teaches biology, honors biology, advanced biology, advanced biology two, and anatomy and physiology. She started student teaching at SLHS in 2005 and was hired the next year. Later, she taught one year at Saginaw Heritage. 
Additionally, school committees she is a part of are the concern committee, school improvement committee, scholarship committee, scheduling committee, and Shark Wars planning committee.  In the time she has been here, Dubridge has done so much not only for the school, but for the students as well.
She said, "My goals when I started were to teach curriculum well  and coach successful teams. Now as I have gotten older, I still work hard to develop and teach curriculum well, but I am much more focused on building relationships and helping others through my work. The curriculum will come with more ease if the students feel safe and respected and know they have someone they can trust." 
She says the reason why she became a teacher was because her parents influenced her to. Dubridge said, "They were both teachers and it was so important for me to be able to spend time with my family.  I love that I get to spend the summer with my kids, and the memories we make with our time together is so important."
Additionally, Mrs. Dubridge volunteers for a variety of other clubs. She ran the L.I.N.K.S group from 2005 to 2007 and helped chaperone the Spanish club trips for five years. She enjoys the time she spends with her students and makes fond memories with them. Macie Salladay said, "We never stop learning from her. She is always there to help us or she's just someone to talk to. She is all around an amazing teacher and leader."
Another one of Dubridge's accomplishments includes hosting the blood drive. Since 2011, Dubridge has been able to collect 1,218 pints of blood making it the most successful blood drive in all of Gratiot County. Chloe' Baxter said, "I thought the blood drive went really well this year, and you can tell that she is very passionate about it."
One of the other groups she helps lead is National Honors Society (NHS committees include: Shark club, Shark closet, recycling, locker signs, costume drive, middle school tutoring, Ashley Christmas festival, Relay For Life, Birthday recognition club, mentor lunch at Nikkari, Adopt-a-Family, Adopt-a-Highway, commision on aging activities, homework lab, Monster Mash, and 4 North bracelet project). Jennifer Brown said, "NHS is an amazing program that has a huge impact on the students and the community. Mrs. Beery and Mrs. Dubridge do an amazing job at keeping everything organized and making sure everyone is involved." 
Dubridge also coached two sports in the same year. From 2005 to 2010, she coached girls' golf and poms. At the time, golf was a spring sport and poms was during the fall and winter.
Dubridge said, "There are days it is hard to be in so many places at once.  I try to include my family in as many projects as possible and teach my children that it is important to give back to their community as well.  If they are involved, they can feel like they are participating in a positive way. My goal is to raise good humans."  
Furthermore, Dubridge enjoys making learning fun for the younger students in St. Louis. Ever since 2005, she plans a day for school woods and a day for sheep eye dissection. Normally she takes her advanced class. Alexandra Pawlitz said, "When Mrs. Dubridge is in charge of doing an event such as the school woods or the sheep eye dissection, she manages to plan everything perfectly. Mrs. Dubridge is one of the hardest working individuals I know and she never disappoints anyone with her hard work."
Dubridge said, "I have been very blessed with a supportive family and community.  Whenever I have needed ANYTHING people have helped/supported me, and I hope that I am able to do the same for others.  I try to be honest and open and build lasting positive relationships with people. I would like to thank my husband, my family, my friends and all my students for their hard work and commitment to every project that comes across my plate."