Nate March and Libby Munderloh earn cross country all-state honors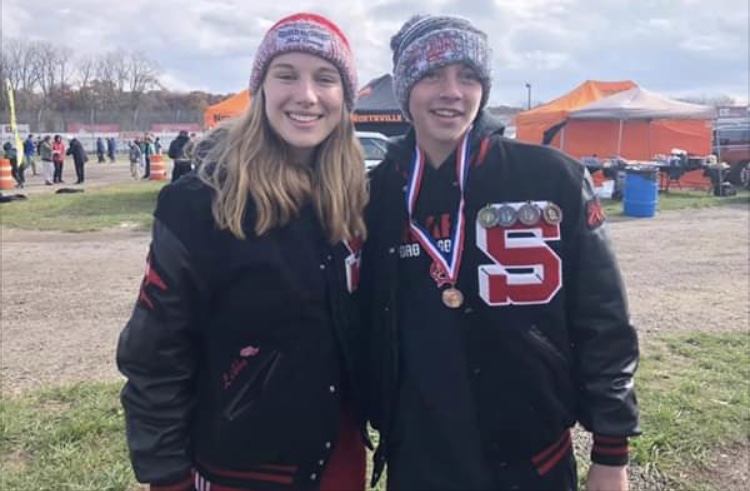 The cheering crowds flash before your eyes as you bolt to the finish. Your heart pounds, not only from physical exertion but from pure excitement. You just placed at the Michigan High School Athletic Association Cross Country State Championships. This was the experience of Nate March and Elizabeth Munderloh Nov. 2 at the Michigan International Speedway. So we asked their thoughts on what makes someone an all-state runner. 
Munderloh replied with, "My running philosophy is pretty focused, but I've learned over time that I can't make running all that I am and that I have to view myself as more than the sport. This helps me put importance into my sport, but not let every aspect of it judge how I live my life and view myself." 
She tries to view other people's attitudes as something to motivate her whether they are good or bad. She said, "I choose to take the good and leave out the bad. If someone is being negative, I try to ignore it, or if it is coming from a competitor of mine, I choose to just view it as an area of the sport that they simply struggle. This just puts me in a mindset to know that I can excel higher than them because of their inability to choose the best way of thinking."
Munderloh continued, "As for self-motivation, I try to just look back on my past accomplishments and remember that I'm running for more than myself. When I struggle in competition I find myself constantly thinking of the team I'm trying to score well for and also all the people who have helped me reach my level of performance."
Nate March added, "I'd have to say my running philosophy is to not let the size of the meet worry or discourage you. It is still 3.1 miles, and if you just give it your all, then that is all that really matters. When my self-motivation is low, I look to my teammates because we are always laughing and having so much fun that it is honestly hard to keep motivation low." 
He also remarked, "I started running because in sixth grade Mr. Trevino came into Mr. Fletcher's class to talk about cross, and when he was finished, I raised my hand to ask a question, and he pointed at me and said, 'Now there is a man who should be in cross country!' So I signed up right there and then and have run cross ever since."
When it comes to academics, Munderloh stated, "I've found the best way to balance running and school is to approach them both the same way. I try to push myself in both my academics and athletics because they both go hand in hand in the end." She finds herself favoring running over school at times, but her parents constantly remind her that running is an extracurricular, and school sets her up for the future even if running is included in it also.
Congratulations to Munderloh and March for all-state honors!