Shark cross country executes at State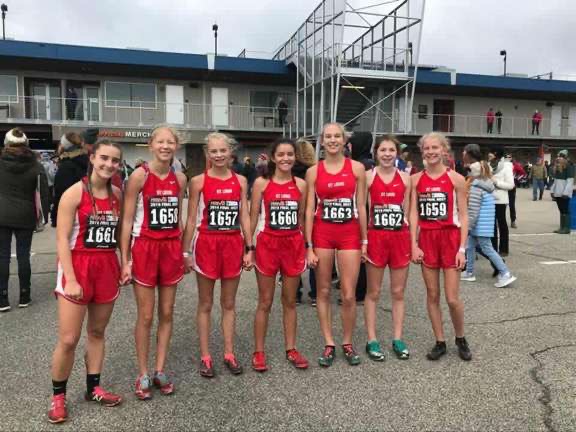 St. Louis varsity cross country traveled to the State meet Saturday, Nov. 2, at Michigan International Speedway, and they finished the season strong with great performances! The boys' team took sixth place while the girls took ninth.
Dylan Marr shared, "The conditions were not the best, but we took advantage of what we could control."
The boys' team executed extremely well on Saturday, taking sixth place out of 27 of the best teams in the state with a score of 231. Leading the Sharks and earning all-state honors was Nate March in 21st place with a time of 16:43.1. Next up was Aaron Bowerman (17:06.5) finishing 45th, Joe Erickson (17:27.3) in 71st place, Thomas Zacharko (17:46.4) in 100th, Austin Aldrich (18:13.2) in 136th place, Dylan Marr (18:16.4) finishing in 142nd place, and Craig Bebow (18:28.0) in 167th.
The girls also performed well by placing ninth overall. Libby Munderloh led the team with an all-state finish of 19:13.4 in 10th place. Following were Mikenna Borie (20:03.0) in 34th place, Mikaila Borie (20:48.7) finishing 83rd, Sela Delgado (21:14.7) in 117th place, Jenna Abell (21:48.6) placing 147th, Payton Kuhn (21:50.3) in 149th place, and Zoe Dickman (22:12.6) finishing in 165th place.
Mikaila Borie stated, "I got the opportunity to go to the state meet this year and last year, and the state meet two-day experience is one of my favorite times of the year. I enjoy the team-bonding, and the state meet has one of the coolest atmospheres of any meet throughout the whole year."
Nate March stepped up to the challenge at state by being the only Shark to run a new personal record (PR) time! March improved his best to 16:43.1 to earn all-state honors.
The state meet was a great way to finish the season for the Sharks, and the team's performance shows great things to come for the program in the future.