The Sharks run fast at the Scottie Classic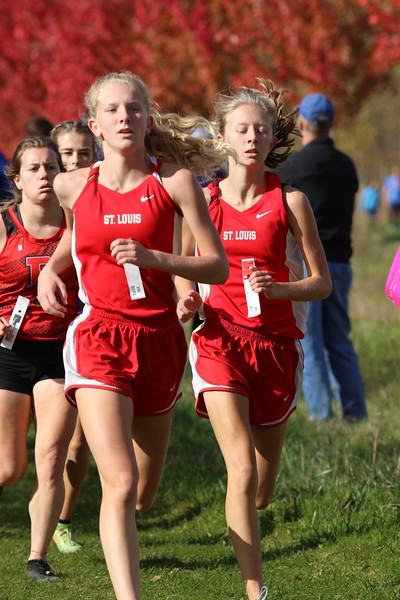 The cross country teams ran Oct. 18, at the Alma College Charles A. Gray Scottie Classic meet, which was relocated to Shepherd High School. The Sharks ran extraordinarily well with great performances all around.
Mikaila Borie said, "There were many PRs at the Scottie meet! The course is always fast, and the competition was good. For some, the season is over, which is always a sad time. But for others, the season continues as we get ready for regionals and hopefully the state meet!"
The boys' team took first place overall against 14 other teams! Leading St. Louis and earning a medal was Nate March, who took sixth place with a personal record (PR) of 16:48.22. Next up, also earning medals were Aaron Bowerman (17:10.94) taking 15th, Joe Erickson (17:19.66) in 19th, Thomas Zacharko (17:27.70) finishing in 20th, Austin Aldrich (17:52.54) in 30th, and Craig Bebow (18:01.26) in 32nd place. Next for the Sharks was Dylan Marr (18:09.47) in 41st place, Will Erickson (18:36.04) finishing 56th, Robert Long-Terwilliger (18:46.75) in 61st place, Walker Aldrich (19:08.25) in 72nd, Keegan Honig (19:26.40) finishing 83rd, Alex Lawhorne (19:31.07) in 87th place, James McDonald (20:14.28) in 106th, Dominic Gilman (20:25.13) finishing in 110th, Alex Davis (20:27.23) in 111th place, Matt Haag (20:40.47) in 115th, and Alex Baxter (21:26.29) finishing 134th.
The girls also did extremely well taking first place in the division and second place overall! Leading St. Louis, and taking first-place overall with a season-best of 18:49.70, was Libby Munderloh. Next up, and earning medals, were Mikenna Borie (19:51.77) in sixth place, Mikaila Borie (20:33.20) in 16th, Payton Kuhn (20:52.46) finishing 21st, Sela Delgado (20:53.80) in 23rd place, Jenna Abell (21:13.56) in 30th, Zoe Dickman (21:22.14) in 32nd place, and Brooke Erskin (21:41.52) finishing 40th. Next was Reyna Rojas (22:21.98) in 56th place, Laney Pestrue (23:08.94) finishing 69th, Avery Ellison (24:05.74) in 89th place, Larissa Delong (24:10.39) in 92nd place, Gracie Shattuck (25:41.27) finishing in 112th place, Elizabeth VanderHart (26:30.64) finishing 122nd, Jennifer Brown (29:41.28) in 141st, and Rylee Koutz (35:05.25) in 156th place.
Kuhn shared, "The temperatures were great. The course was in decent condition, and everyone did great!"
Additionally, PRs were handed out in abundance to the Sharks this meet with 11 running personal bests and five running season bests! 
It was a fantastic last performance for the team before varsity moves on to regionals Oct. 25, at Uncle John's Cider Mill.