Boys' cross country captures a win at TVC Championships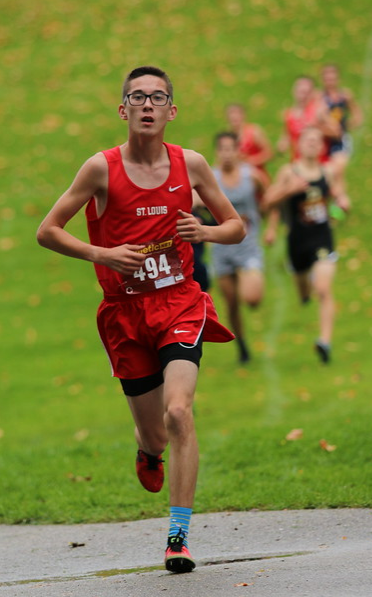 The Shark cross country teams competed Oct. 25, at the Tri-Valley Conference (TVC) Overall Championships hosted by Frankenmuth High School. This meet combined the TVC West, TVC East, and TVC Central to determine the overall TVC champions. The Sharks stood out and ran well despite the rough conditions and demoralizing hills.
Alex Lawhorne wasn't a fan of the terrain, saying, "Think about sledding down a hill. Now, remember what it feels like to walk back up the hill with your sled. It's like that, but about eight times."
The boys' varsity team took first place out of 15 teams with a score of 61, beating second-place Alma by five points. First up for the Sharks, and earning first-team all-division TVC were Aaron Bowerman (17:30.68) finishing in fourth place and Nate March (17:40.07) in eighth place. Next, earning second-team all-division were Joe Erickson (18:05.97) in 12th place, Dylan Marr (18:37.83) in 18th place, and Austin Aldrich (18:39.42) finishing in 19th. Finishing in 22nd place was Thomas Zacharko (18:42.83) who earned third-team honors. Rounding out the varsity team was Alex Lawhorne, who finished in 36th place with a time of 19:27.33.
The girls' varsity was running well and in great position when they were called off mid-race due to lightning. The girls were around two-and-a-half miles into the race when the course was cleared to take shelter from the storm. Sadly, because of this, there are no results for the girls' team.
Jenna Abell shared, "I was very disappointed that I had to be stopped. Most of the team were in a great place and were on track for great races. When they stopped us, mostly everyone was upset. Everyone put in great effort though."
Later, the boys' and girls' junior varsity ran together, but they were still scored separately. JV boys took first with an outstanding score of 18 (only three away from a perfect score)! In fact, the Sharks had their top five runners in the first six places! Craig Bebow led the charge in first place out of 73 runners with a time of 19:17.05. Next was Will Erickson (19:37.16) in second place, Robert Long-Terwilliger (19:56.58) finishing in fourth, Walker Aldrich (20:06.84) in fifth, Keegan Honig (20.07.56) finishing in sixth, Alex Davis (21:30.8) in 15th, Matt Haag (21:31.59) in 16th, Dominic Gilman (21:33.55) taking 17th, James McDonald (23:11.65) in 30th place, and Alex Baxter (23:13.40) finishing in 31st place.
Craig Bebow said, "Even though the course was hard, we all persevered and competed to our greatest ability and had a great day."
Additionally, girls' JV took third place on the day. Brooke Erskin took first place out of 84 girls with a time of 22:33.95. Next was Reyna Rojas (23:44.99) in sixth, Laney Pestrue (24:12.23) finishing in ninth place, Larissa Delong (25:12.20) in 22nd place, Elizabeth VanderHart (28:11.84) taking 39th, Rylee Koutz (30:40.1) in 58th place, and Jennifer Brown (32:29.92) finishing 66th.
Sharks that ran their personal record (PR) this meet solely included Keegan Honig with a one-second PR while running 20:07.56.
The Sharks will be back in action Oct. 18, for the Alma College Charles A. Gray Scottie Classic meet, which has been relocated to Shepherd High School due to flooding.