SLHS is saying goodbye to Mr. Hemker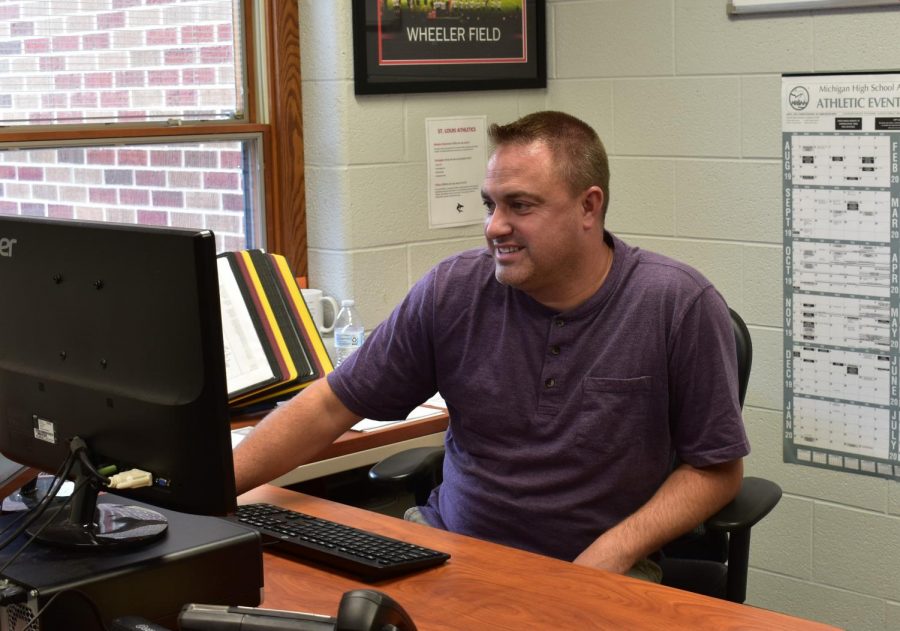 As some students may, know Scott Hemker, athletic director and dean of students, resigned and will be leaving at the end of October. He worked 20 outstanding years at St. Louis Public Schools. He started in the fall of 2000 teaching Spanish 1-4, yearbook, and math. 
When Hemker was asked what his favorite part of working at St. Louis was, he responded with, "I've loved every role I've played here.  My favorite part was traveling the world with over 250 students and having the pleasure of watching them learn and grow. These roles have allowed me to connect with students, staff, and the community and build memories and relationships that will last a lifetime." 
As for athletics, he coached JV girls basketball for over a dozen years. He coached middle school boys basketball and middle school girls basketball for a couple of seasons as well. 
Hemker also said, "I'm forever grateful for my experiences and opportunities here.  I will always be a Shark. For now, it's time to prioritize and make more time for my family so that I can be a better dad and husband."
Mrs. Dubridge added, " Mr. Hemker has made a huge impact on my life.  We have traveled the world together and I know that I can always count on him to do the right thing. He is one of the hardest working people I know.  He puts 100% of himself into everything he does. As a teacher, he made a daily impact on students' lives; as an athletic director, he upgraded our facilities and held our student-athletes to a standard that everyone can be proud of! I will miss Mr. Hemker tremendously…  We have worked together for 16 years and shared a lot of ups and downs in both our work life and personal life. He is a great person and I wish him the best in his new endeavor!"
Hemker has done many wonderful things for the school and the community and will be greatly missed.