Varsity Sharks shutdown by the Cardinals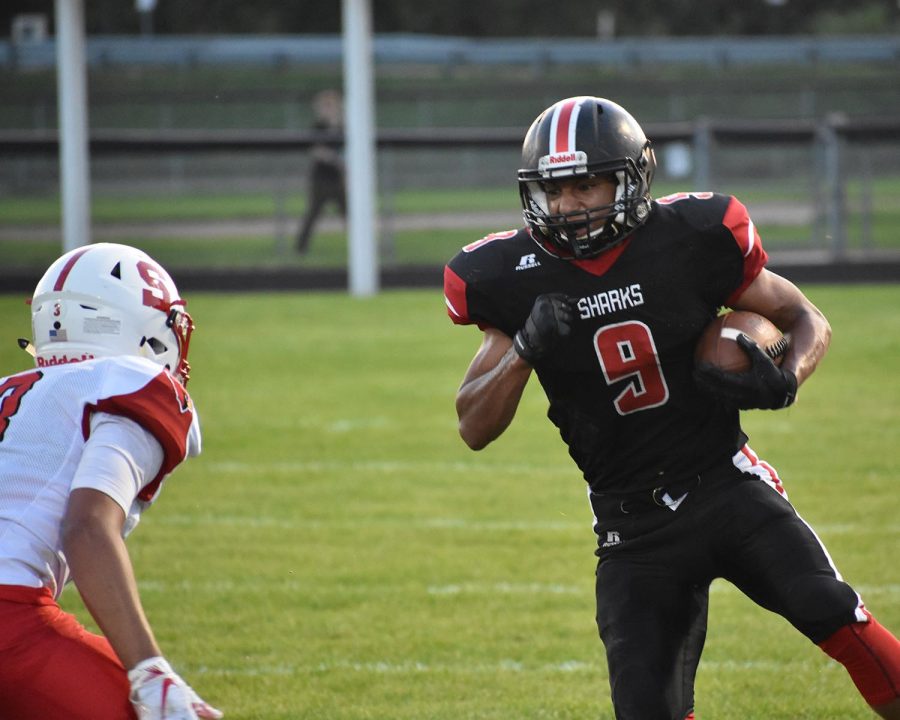 Saint Louis varsity football took on the Michigan Lutheran Seminary Cardinals Friday, Sept. 20 and lost 36-0. 
Junior Logan Koutz said, 'We faced some adversity in the week leading up to the game, and some guys had to step up and play more or play new positions and they did this well. Our defense was pretty good; just couldn't finish. Our offense is almost there we just have to keep working." 
The top three offensive players on the night were Andrew Taipalus, Trae Garcia, and Alex Wonsey. Taipalus had eight carries with a total of 87 yards. Garcia had 13 carries with a total of 78 yards. Wonsey had three carries with a total of seven yards. 
The top three defensive players of the night Trae Garcia, Alex Wonsey, and Shadow Little. Garcia had 5.5 tackles with one being a sack. Wonsey had 5.5 tackles with a sack. Little had two tackles. 
Player of the game went to running back/wide receiver Trae Garcia. On offense, he averaged six yards per carry. On defense, he had two interceptions with a gain of 20 plus yards on each pick.
Avante Taylor said, "I felt like my performance wasn't very good at all. I am very capable of getting in the back multiple times and getting to the quarterback. I guess I'm just being too aggressive. Next game I need to be more disciplined.
The next game is against the Valley Lutheran Chargers at Valley Lutheran Sept. 27.