Boys' cross country wins TVC meet, girls take second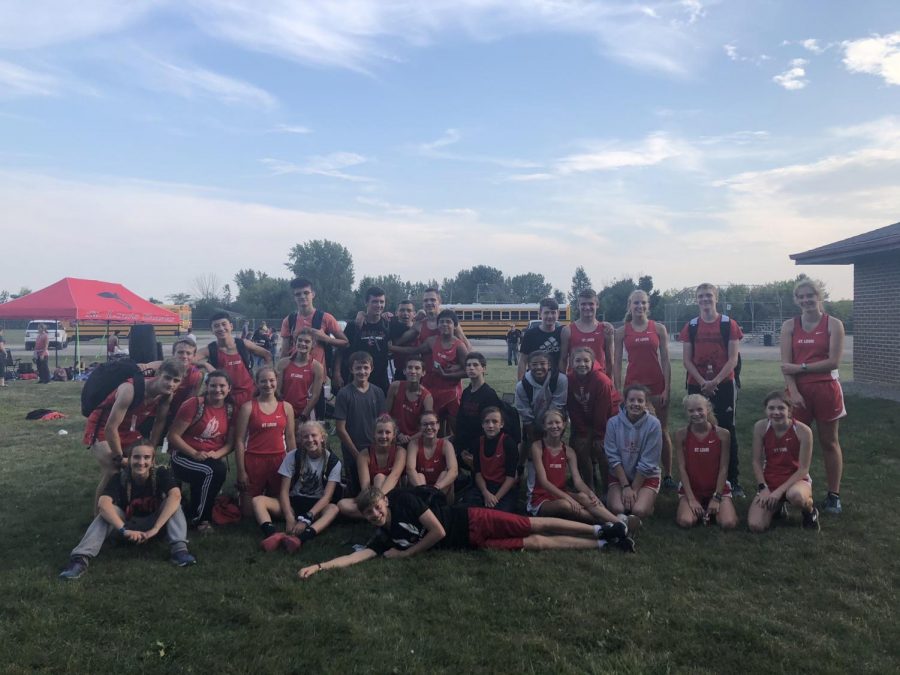 St. Louis cross country dominated at the first of three Tri-Valley Conference (TVC) meets Tuesday, Sept. 10, at Wickes Park in Saginaw. The overall winner of the three meets is crowned the Tri-Valley West champions. The heat and humidity took a toll on all runners in attendance, but the Sharks pushed through the weather.
Coach Puffpaff shared, "I was really pleased with the attitudes and efforts on a hot and humid day. The team stayed focused with the things within our control and performed well."
The guys' team took a commanding lead in the TVC West with a score of 26. They beat the second-place team by 23 points! Aaron Bowerman (17:24.72) took second place, Austin Aldrich (17:55.67) took fourth place, Joe Erickson (17:55.90) took fifth place, Nate March (18:04.75) took sixth place, Dylan Marr (18:47.00) took ninth place, Thomas Zacharko (19:09.23) took 13th place, and Craig Bebow (19:52.11) took 18th place.
Nate March stated, "We had the opportunity to perform well, and we took full advantage of that opportunity."
The girls' team took second place with a score of 45. Libby Munderloh (20:02.47) took second place, Mikaila Borie (21:33.57) took seventh place, Zoe Dickman (21:45.32) took eighth place, Jenna Abell (22:37.41) took 13th place, Laney Pestrue (23:14.92) took 15th place, Avery Ellison (23:34.25) took 16th place, and Payton Kuhn (24:00.91) took 18th place.
Additionally, St. Louis runners who ran PRs (personal record) this meet include Keegan Honig with a seven-second season PR, Jenna Abell with a 14-second career PR, and Matt Haag, who ran a 41-second career PR!
The Sharks will be back in action Friday, Sept. 13, at the MSU Spartan Invite in Lansing.