JV football moves to 2-0; defeats Nouvel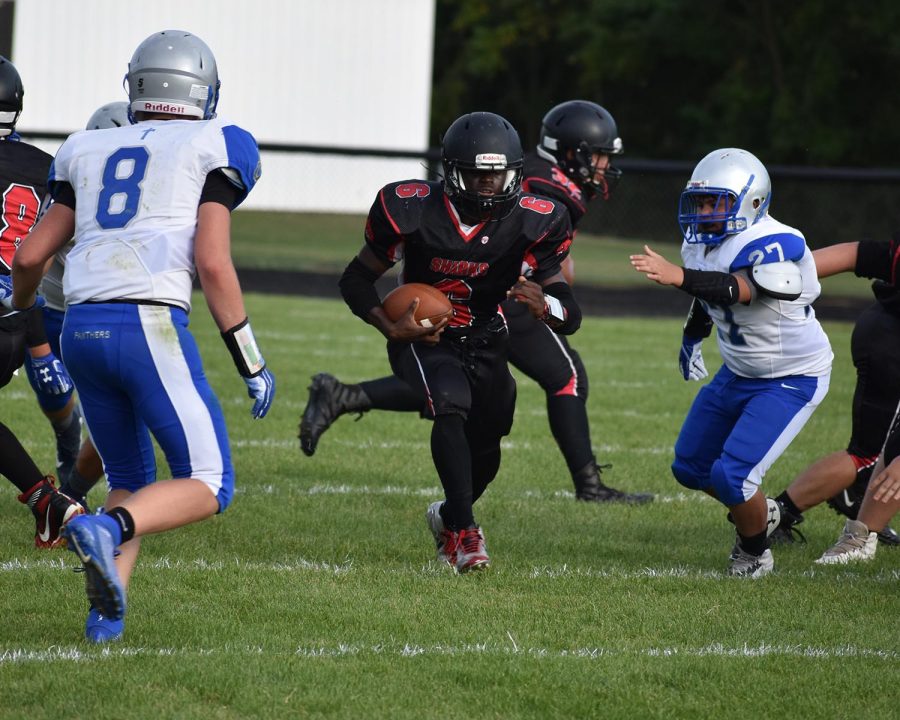 Saint Louis junior varsity took on the Nouvel Panthers in the Shark Tank Thursday, Sept. 6. It was a hard-fought battle, but in the end, the Sharks overcame many obstacles and took the win 14-6. 
The offensive players of the night were Reese Giles, Ignatius Jackson, and Rafael Orta-Vasquez. Giles scored a two-point conversion, and Jackson scored the first touchdown. 
The defense had a spectacular performance with a total of five interceptions that night. All the players that had an interception were Connor Daniels, Tegan Inbody, Ben Dousah, and Gavin Wenzlick. 
Inbody said, "A positive probably is our defense a negative is our offense. One thing we can work on though on defense is keeping our zones. One thing we can work on for offense is getting our blocks and communicating better. If we can get our offense going better than it is and our defense maintaining and stopping teams, we will do fine."
By the first quarter, both teams went scoreless, but by the second quarter, the Sharks scored their first touchdown failing the two-point conversion. Nouvel managed to score a touchdown making the score 6-6 in the third quarter. In the final quarter, the Sharks pulled through and secured the win by scoring a touchdown and a two-point conversion ending the game 14-6. 
Defensive coach Kevin Stedman said, "Overall our defense played well, obviously we held them to 6 points. Things we can improve on are attacking and controlling our gaps effectively and playing disciplined football and not over pursuing the ball. Offensively, we do well at times blocking; we need to do well blocking every single play. Everyone needs to understand their job and do it effectively. We are looking forward to an excellent season as we move forward. We just need to work harder if we do that, we will get what we need. We are looking forward to the challenge against Ithaca."
The Sharks are home Thursday, Sept. 12, against the Ithaca Yellow Jackets.