Varsity Sharks edge Mustangs in opener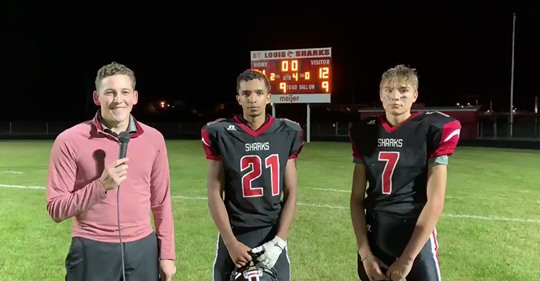 Saint Louis varsity football started their 2019 season with a win against the Montabella Mustangs 24-12. The game Thursday was delayed till Friday, Sept. 30. 
Senior Jordan Lowe said, "Thursday we went in ready for it, but then we got delayed. The next day I don't think we all came back with the same energy, but we got the win and that's what matters. We got a little touching up to do, and we'll be ready for Nouvel now.
The top three offensive players on the night were Patrick Hanley, Andrew Taipalus, Jordan Lowe. Hanley passed for a total of 112 yards. Taipalus had a total of 52 yards, three receptions, and two touchdowns for a total of 83 yards.
The top three defensive players on the night were Johnathan Starry, Avante Taylor, Michael Hrabal. Starry had one fumble recovery. Taylor had three tackles and one sack. Hrabal had four tackles and one sack for a safety.
Player of the game went to quarterback  Hanley who threw for a total of two touchdowns and had an 80 percent completion rate. 
 Taylor said, " It was very thrilling to not only get a tackle on varsity but to have it be a sack was amazing. Having my teammates and coaches supporting me and encouraging me is just an unmatched experience."