Aaron Bowerman becomes cover of Snapchat's "Best of High School"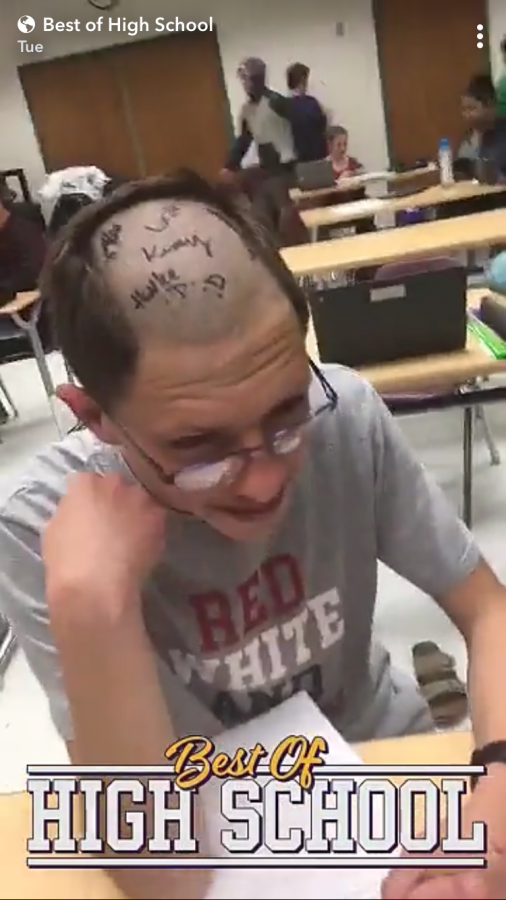 Aaron Bowerman, a freshman from St. Louis High School, recently found fame on Snapchat's popular "Best of High School" story. The video shows Bowerman with part of his head shaved and other people signing their names on his head. Fellow student Korah Honig took the video and posted it to "Our Story," and it became the cover of "Best of High School," and the video amassed around four million views!
Honig shared, "I saw people signing his head, and I took a video. I was surprised when a bunch of people started texting me saying, 'did you see your snap on best of high school?' I checked, and it had two million views, and it kept growing!"
It's very hard to make it on "Our Story" because a lot of people send in videos every day to try and make it on. Snapchat chooses several of the best videos to put on the public story, and only the best one gets to be the cover.
However, Bowerman wasn't as thrilled about his new-found fame. He stated, "I couldn't care less. I didn't find out until I got to 144,000 views, and Craig [Bebow] called me in the middle of the night and woke me up. It is pretty cool, but I couldn't have cared less."
The Snapchat story is very popular, so many students from our school saw their fellow student on the huge social media platform.
Logan Abell shared, "I thought it was funny to see Aaron Bowerman's shaved head on an app as big as Snapchat."
Corban Allen said, "I think it's pretty crazy that students from SLHS are on a platform that large for so many people to see."
A few students from St. Louis have made it on Snapchat's popular stories, but Bowerman actually made the cover, and that's why this occasion is so rare.