Track competes at stacked Alma College Scottie Classic meet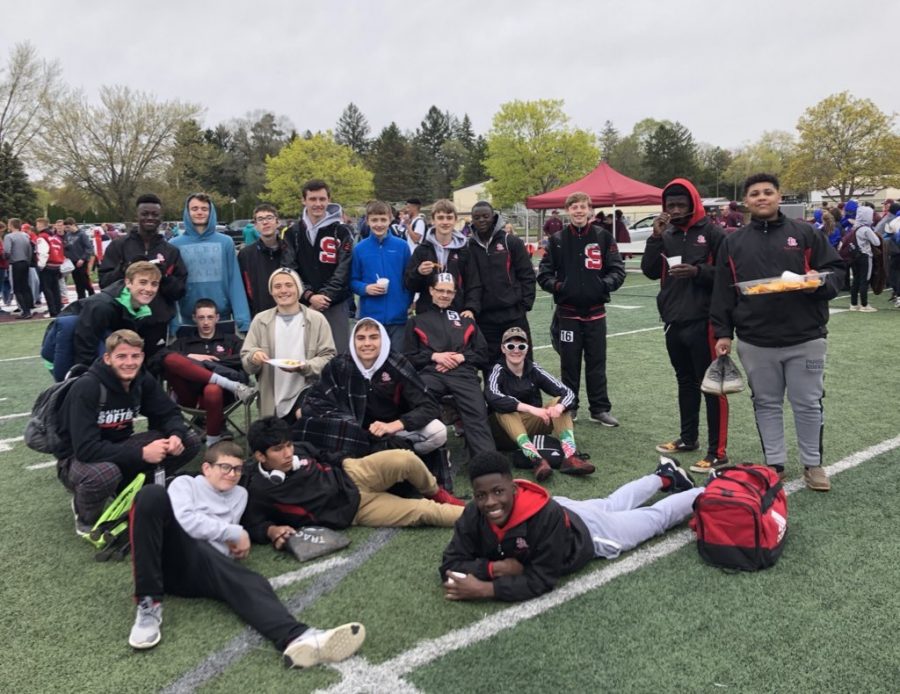 St. Louis High School track and field competed against some of the best teams in division three Saturday, May 11, at Alma College. The girls' team had an outstanding day and took first for the division and third overall (out of 25 total teams), while the boys' team took third for the division.
Nate March made St. Louis history this meet by making it to ninth place on Coach Puffpaff's 21st-century school records list for the 1600-meter race! March ran an outstanding time of 4:42.36, which is also the fastest freshman time on the list, just barely beating out former state champion Evan Goodell's freshman record. March also ran his PR in the open 800 with a time of 2:16.61. Iggy Jackson also moved up to third place on the 21st-century list for long jump by jumping an impressive 20'05!
Other notable PR's include Cameron Mizer and Attah Dryden both in the 400-meter race with 54.38 and 55.63 respectively, Austin Aldrich in the 1600-meter run (4:56.41), Conner Daniels in the 300-meter hurdles (52.13), Ben Dousuah in the 110-meter hurdles (20.01), and also Aidan Fisher in the 110-meter hurdles with 20.77. Two guys also PR'd in the 3200-meter race for the Sharks: Aaron Bowerman (10:29.56) and Joe Erickson (10:59.10).
The girls' side also had some brilliant performances. Mikenna Borie ran her personal record (PR) in the open 800 with a time of 2:39.04, and her sister Mikaila Borie also ran her PR with a time of 2:40.62. Mikenna Borie also PR'd in the 1600 with a time of 5:26.56. Carly Daniels ran her PR in both the 100 hurdles (20.13) and the 300 hurdles (56.87), and Sela Delgado PR'd in the 800 (2:42.34) and the 1600 (5:54.05).
Brooke Erskin PR'd in the 3200 (13:39.48), and so did Larissa Delong with a time of 14:23.85. Chloe O'Boyle ran her best 200-meter dash time of 28.06, and so did Maude Zolue (32.19). Zolue also ran her PR in the 100-meter dash (15.34). Reyna Rojas ran her PR in the 400 (1:06.37), and so did Gracie Shattuck (1:11.95). Rojas also set her PR in pole vault with a vault of 7'0! Lastly, Jazmin Milks threw her PR in discus with a great distance of 99'9.
Overall, the Sharks put up some incredible performances to prove St. Louis is a dominant team. The Sharks will be competing next Friday, May 17, at Chesaning High School for the regional meet.