Track annihilates TVC West competition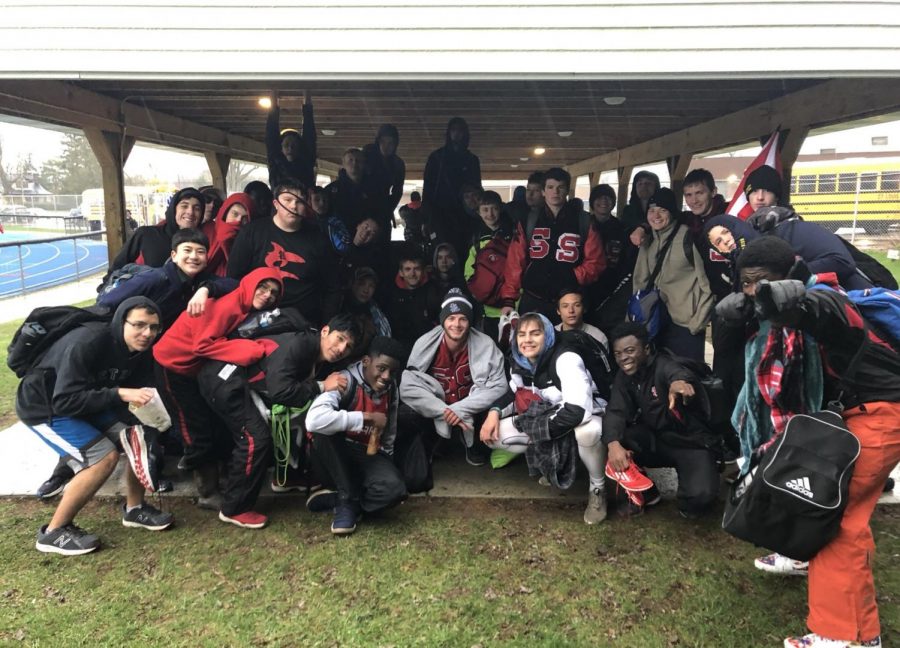 St. Louis track dominated yet again Tuesday, April 30, at Hemlock High School. It was another TVC West matchup so the only teams competing were St. Louis, Hemlock, and Valley Lutheran, and the Sharks swept the opposing teams on both the girls' and boys' sides.
Craig Bebow stated, "Even though the weather was very bad, we pulled through and got the victory over two very good teams."
Jordan Lowe took first in the 100-meter dash with a personal record (PR) time of 11.49, and Chloe O'Boyle took first in the 100 for the girls with a time of 13.38. Lowe also ran a PR in the 200-meter dash (23.57) while taking second place. Cameron Mizer took first place in the 400-meter dash (56.80), and Austin Aldrich took first in the 800-meter race (2:15.65).
For the girls' side, Libby Munderloh won the 400 with a time of 1:05.99. She also won the 3200-meter race with a time of 12:35.01, and Zoe Dickman took second with an outstanding PR of 12:58.51! Mikenna Borie won the 800 with a time of 2:43.46, and she won the 1600-meter run with a speedy 6:00.64.
On the boys' side, Nate March won the 1600 (5:03.30) and the 3200 (11:19.48) to help the Sharks gain an edge with points on the competition. Senior Tara Goodell won both the 100-meter hurdles (20.92) and the 300-meter hurdles (59.16) for the Sharks. Also, all four relay teams for the lady Sharks took first place, and the boys' 4×400 and 4×800 took first place as well. Finally, Jazmin Milks took first in shot put with a throw of 31'06.
Goodell shared, "It was not the best day to run at all, but a lot of us pushed through and were able to run pretty well. We pulled out a win, and we had some great races from a lot of people."
The Sharks performed well in the cold, wet conditions to sweep the competition, and they are competing better each meet. St. Louis' next meet will be Friday, May 3, at Shepherd High School.