SLHS holiday assembly fun!!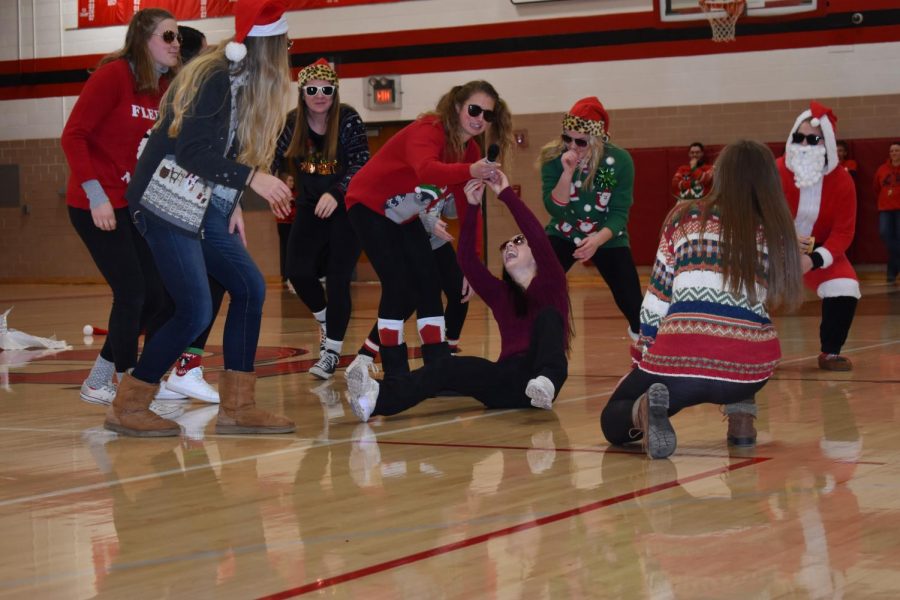 On Thursday 22, the annual Christmas assembly was held in the St. Louis High School gym. This assembly wrapped up SLHS Christmas spirit week with a bang! The week started off with a cozy Christmas pajama day, followed by a red and green day to go with the season, followed by that was bundle up day and last but not least, everyone's favorite, ugly sweater day. All the students gathered up in the SLHS gym to judge the ugly sweaters and have an assembly for the Christmas spirit week.
Willow Fuentes gave her input about spirit week and the Christmas assembly, "I personally think that the Christmas assembly was extremely fun and entertaining and it got people even more ready and eager about break. My favorite part about the assembly was the Mock Rock. Watching the different sports team do a Mock Rock dance was a lot of fun, and I loved watching people dance, along with dancing myself. I love having Christmas spirit week! I definitely do not think it is pointless at all and I think it brings a lot of character and spunk out of people that was hidden for a long time."
Ms. Long added, "Christmas spirit week makes everything more exciting! My favorite part was seeing my students each day dress up in a festive outfit. It made for funny laughs. I also enjoyed the dance competition with the girls varsity basketball team at the assembly. I don't see why we shouldn't have a spirit week for ever holiday. It gives the students and staff something else to look forward to when coming to school.
Finally, the winner of the ugly sweater contest was Kassie Acker. She said, "Coming up with an ugly Christmas sweater was very easy; the hard part was making it. There was hot glue everywhere! I feel so honored that my school chose me to be the ugly sweater contest winner. I was very doubtful going against Keegan Honig, but I just barely pulled in the lead. It was a once-in-a-lifetime experience. My favorite part about the spirit week was seeing everyone get into the holly-jolly festivities and celebrating winter break. I feel like a longer assembly with more student oriented games would have made the celebration a great time for everyone."